NEEMO 16 – In search of an asteroid
Welcome aboard the NEEMO 16 mission!
Destination: Asteroid, deep space
Date: 11-22 June 2012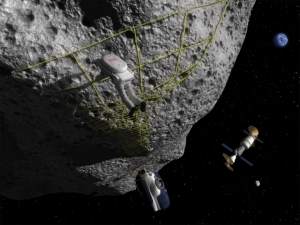 Earlier this year I was fortunate enough to be assigned to NASA's Extreme Environment Mission Operations (NEEMO) 16th mission to an underwater habitat called 'Aquarius', which lies about 20m under the ocean and nearly 8 miles off Florida's Key Largo coast. Over the years, NEEMO missions have been used by NASA to provide vital research and development data to support future exploration missions.
Living underwater is an excellent space analog – the crew can practice EVA ('spacewalk') techniques using neutral buoyancy in water, whilst Aquarius offers an environment similar to a spacecraft: confined living space, total reliance on life support systems and no option for a quick return. The crew can only surface safely after 12 hours of decompression – to do otherwise would risk severe decompression illness or 'the bends'.
The NEEMO 16 crew comprises NASA astronaut and mission commander Dorothy (Dottie) Metcalf-Lindenburger, JAXA astronaut Kimiya Yui, Professor of Astronomy Steve Squyres and myself. In addition we will be supported by two habitat technicians who are also diving experts. The crew will spend 12 days living in Aquarius, conducting two EVAs each day. Like any space mission, there will be an experienced ground support team who will manage operations, communications and logistics from their Mission Control Centre (MCC) on dry land.
The European Space Agency will also play a key role in NEEMO's MCC thanks to the support of Hervé Stevenin – a highly experienced EUROCOM (Europe's voice link to the International Space Station) and EVA/diving instructor at the European Astronaut Centre (EAC). Also supporting the mission will be Ben Douglas, an experienced flight surgeon from EAC's Crew Medical Support Office.
As if the prospect of living for 12 days underwater wasn't exciting enough…it gets better! The aim of NEEMO 16 is to simulate a future mission to an asteroid. This is the current focus for NASA's first manned mission into deep space, venturing beyond the moon's orbit and once more pushing the boundary of human presence in our solar system.
The Orion spacecraft will be instrumental in getting astronauts to asteroids, launched atop the Space Launch System. For the journey, which could last anywhere between 1-6 months, the crew would likely live inside a Deep Space Habitat and once there they would explore the surface using a Space Exploration Vehicle (SEV). The SEV would take astronauts close to the surface where they could perform EVAs that would involve deploying instruments and collecting samples.
NEEMO 16 aims to study some of the challenges that will be faced during an asteroid mission – how astronauts and SEVs can work together using restraint and translation tools and techniques in order to explore the asteroid surface (particularly difficult in a very low gravity environment), optimal crew size for efficiency and the inevitable communication delay that will increase with distance from Earth.
For this mission our SEVs will be simulated by two DeepWorker submersibles, piloted by fellow astronauts. The subs will be modified with a foot restraint attached to a manipulator arm, which will enable astronauts outside the SEV to hitch a ride as they explore the surface and collect scientific samples. In addition, astronauts conducting EVA will have the opportunity to wear 'jet-packs' (battery powered thruster packs) to move quickly and easily from one place to another. Is this beginning to sound like the best birthday present anyone could wish for? Well, I have just turned 40 so thank you, European Space Agency!!
More to follow on the NEEMO 16 mission training in the build up to Splashdown on June 11th!