Posted on April 18, 2013 by julien
Luke Skywalker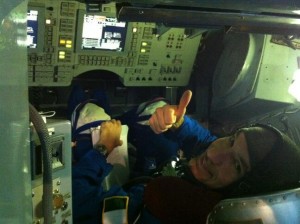 Luca writes: I am in Moscow, Russia, five weeks till launch.
These are the last weeks I will spend with my feet firmly on the ground (my head is still in the clouds, as always). I feel as though I was thrown in a blender: there are many last-minute things to do that need my direct attention and cannot wait. Despite being so busy with my training, I need to find a way to distribute my attention to other matters. My focus is mainly on the final exams for the Soyuz spacecraft and on the Russian segment of the International Space Station that will begin this week.
Read more on the Volare blog...