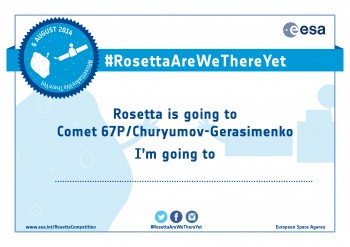 Missed out on the "Wake Up Rosetta" competition earlier this year? Want another chance to win a trip to ESA's mission control for Philae's landing on the comet? You're in the right place!
We're delighted to announce the launch of "Rosetta, are we there yet?" a photo contest to support the last leg of the epic voyage to comet 67P/Churyumov–Gerasimenko. Of course, there are some fantastic prizes up for grabs.
Read the official launch article HERE for the full story, but in short, here's what to do:
1. You need: a camera, or mobile phone with a camera
2. Capture an "Are we there yet?" moment while you're on a journey or arriving at a destination. Options: take a selfie, make a Rosetta model or fill in our banner to tell us where you're going; do all three or something else – just be creative (more tips and tricks via the launch article).
3. Upload your photo between 9 July and 6 August via esa.int/RosettaCompetition, via the Rosetta Mission Facebook page, or by Twitter or Instagram using the #RosettaAreWeThereYet hashtag
4. Vote and share your favourite photos between 6 and 21 August to win Rosetta gifts and a chance to be at ESA's operations centre in Germany in November, for the VIP event celebrating the first landing on a comet