The European Space Agency and LEGO Education have paired up to create an exciting  contest for Andreas' iriss mission. Primary school students across Denmark were invited to research different aspects of the iriss mission and based on their findings, create short movie clips using a StoryStarter product by LEGO.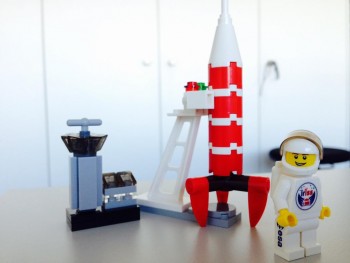 The children filmed their creative stories and had the chance to share them on YouTube. The best  five movies were displayed in a special event at Legoland in Billund, Denmark, hosted by Andreas at the end of June.
Next up, 20 LEGO figurines were launched to the International Space Station on Progress spacecraft 60P from Baikonur Cosmodrome in Kazakhstan. The figurines accompanied more than 3 tons of food, fuel, and crew supplies on 60P. Our LEGO friends will be returning to Earth later this year, possibly in Space-X's Dragon capsule. They will be used as very special prizes for activities around the iriss mission.
The winning team of the competition will be announced by Andreas while is in aboard the Space Station in September.
Fun Fact: Did you know the name LEGO is an abbreviation of the two Danish words  'leg godt', meaning 'play well'?