Posted on November 17, 2016 by julien
Spacerocks patches sent!
The spacerocks patches have been sent for shipping and are on their way to the lucky winners. The pack includes one #spacerocks patch, one Principia sticker and one signed certificate. The packaging is pretty tough, a card envelope with 4 mm card reinforcement. Envelopes are addressed with ESA labels and mailed registered post.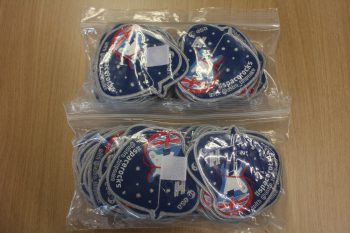 Here is a breakdown of the winners:
1 Belgium
2 Ireland
2 Italy
5 Spain
1 Slovenia
1 Hungary
1 Ukraine
2 Germany
1 Czech Republic
2 France
1 Qatar
2 USA
55 UK