Today's CometWatch entry is another single frame NAVCAM image taken on 15 April, almost four hours after the one that was published last Friday. The new picture was obtained at about 165 km from the centre of Comet 67P/Churyumov-Gerasimenko, where the resolution of NAVCAM is 14 m/pixel. The image has been cropped and measures 10.4 km (the original frame, provided at the end of the post, measures 14.4 km across).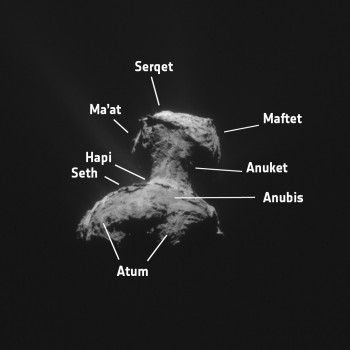 The image has been processed to spotlight the comet's activity, including the striking jet on the left, in proximity of the neck region. It is interesting to compare today's entry to CometWatch 31 January, which shows the comet in a similar orientation.
An annotated version of the image is provided, along with a regional map of the comet, to help identify some of the regions on 67P/C-G.
With the small lobe up and the large lobe down, today's view showcases two of the regions on the comet's neck, revealing the steep scarp of Anuket and the adjacent smooth Hapi region.
Another smooth region, Anubis, dominates the view on the large lobe, partly surrounded by the more complex terrains of Atum.
The small lobe features the sharp ridge between Serqet and Anuket and, towards the right, hints of the rough terrains of Maftet are also in sight.
The original 1024 x 1024 image is provided below: