A big thank you to Thorsten Schmidt for a Danish space dinner for the complete #ISS crew with a Space Rock surprise! pic.twitter.com/V0tqsbURGF

— Andreas Mogensen (@Astro_Andreas) September 8, 2015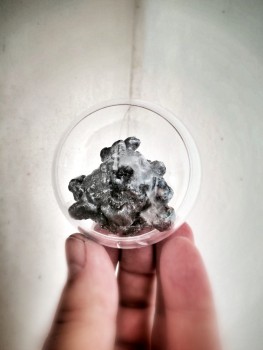 Last night, Danish ESA astronaut Andreas Mogensen served a nice meal for all nine astronauts on the International Space Station.
Andreas Mogensen's so-called bonus included a main course, a dessert and a chocolate surprise and was conceived and prepared by Michelin-star chef Thorsten Schmidt from Jutland in Denmark.
Thorsten Schmidt was trained as a chef in Bremen and founded the restaurant Malling& Schmidt in Aarhus in 2005, strongly inspired by Noma and New Nordic Kitchen. He loves physics, chemistry and history,and he has a scientific and experimental approach to cooking.
"I really wanted to bring some Danish food with me to give a Danish flavour to the mission but also to be able to gather all nine crew members on the Station, sharing a meal together and giving the long-duration astronauts something special" said Andreas.
The meal consisted of brisket with cabbage, vanilla custard with rhubarb and 'Space Rocks' chocolate.
Thorsten Schmidt had six weeks to develop and prepare the food, which had to be ready and packed in April and approved by the Russian authorities, the European Space Agency and US space agency, NASA. Working with such strict requirements and preparing a meal to be eaten in weightlessness was a challenge for the experienced chef.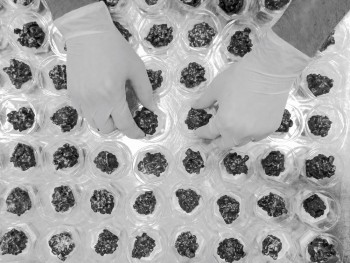 When Thorsten Schmidt learned about the new espresso machine on the Space Station he decided to prepare something sweet that would go well with coffee together with his former colleague and good friend Palle Sørensen, who is a gold-medal winner at the World Championships in chocolate art.
'We made some chocolates, which we ended up calling Space Rocks because they resemble meteorites. We made a personal Space Rock for each astronaut with a surprise in it "says Thorsten Schmidt.
Continuing, "We sent the astronauts' wives and family paper pieces of 5 x 5 cm and asked them to send greetings to their men and send the greeting back to us so we could put it in the chocolate. We managed to get the letters, but only just before the deadline!"
He is pretty sure that no one discovered there were nine 'different' chocolates smuggled to the International Space Station and hopes it was a great surprise for the crew on an otherwise very normal day on the International Space Station.
"You can imagine how happy an unexpected handwritten letter can make you – and not just any text but from someone who is very dear to you. Both Palle and I wanted to create a personal moment for each astronaut, to surprise them pleasantly" concludes Thorsten Schmidt.