Excellent views of Mars acquired by the VMC today at 07:00 CEST (05:00 UTC), and downloaded within hours, transmitted to ESOC in Darmstadt, processed by the Mars Express team and... here it is! Thanks to the MEX team and Simon Wood.
Hot on the heels of yesterday's images, here are today's set fresh off the spacecraft; again we see possible clouds/dust round the poles.
These images were taken at an altitude of 9900 km above the surface at 07:00 CEST (5:00 UTC) this morning and transmitted back to Earth at 13:15 CEST (11:15 UTC).
This rapid turn around is in part due to the current Earth - Mars distance being 'only' 123 336 112 km. At this distance it only takes 6 mins 51 seconds for signals travel from the spacecraft to Earth. (As we get further away this can increase to up to 25 minutes.)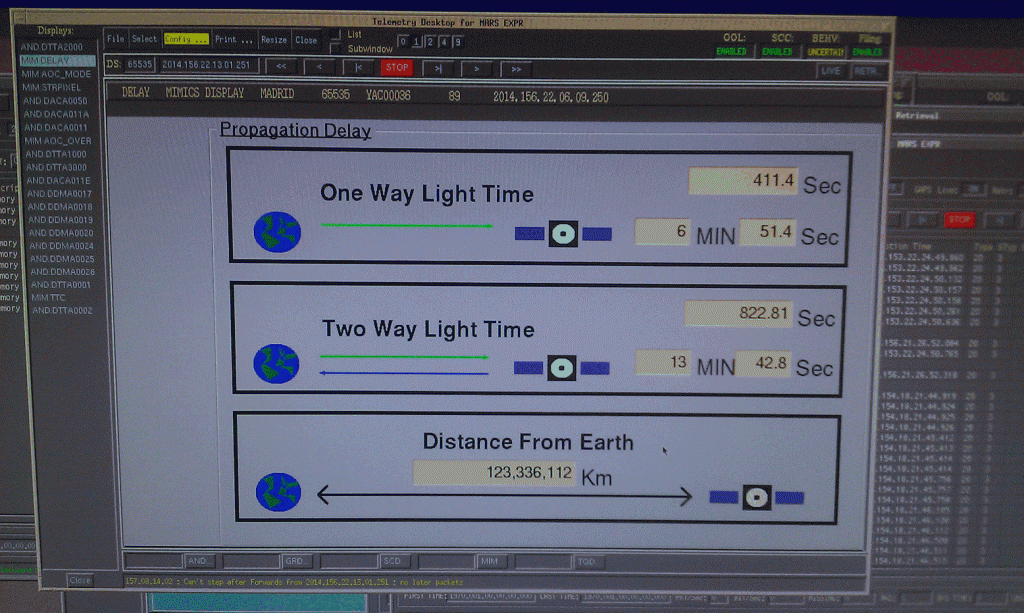 Propagation delay display on the Mars Express Mission Control System
This proximity gives us higher data transmission rates, which mean we can transmit more of the stored data from the science instruments – and thus occasionally leaves us with spare data downlink capacity in some of our ground station passes. This spare capacity enables us to schedule the VMC data dumps much closer to the VMC observations.
Continuing from yesterday's highlighting of the Phoenix lander, here we have marked the landing site of the NASA Mars Exploration Rover B - Opportunity.
Opportunity is a fellow seasoned Martian explorer; it was launched only 5 days after Mars Express on 7 June 2003, landing on 25 January 2004 – one month after we entered Martian orbit.
Its landing site is located in the Meridiani Planum, an area of interest due to concentrations of the mineral Hematite, which on Earth is often formed in the presence of water.
With the possibility of water-formed minerals located here, it is not surprising that this is an area also investigated by our mineralogical Spectrometer OMEGA and our high resolution camera HRSC.
As with Phoenix, its sister rover Spirit and, currently, Curiosity, Mars Express has performed communication activities with Opportunity over the years, including the relay of the image above from the surface back to Earth.
As usual, the full set of this morning's images is available in Flickr.