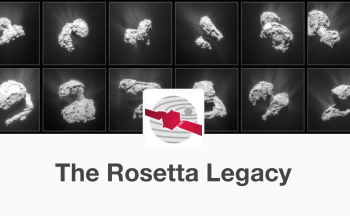 Between 6 September and 7 October 2016, we collected 235 contributions to the Rosetta Legacy tumblr. A huge and sincere thank you to all participants who shared experiences, stories and images of how the mission of Rosetta and Philae to Comet 67P/Churyumov-Gerasimenko has inspired their lives, including study and career choices, artistic practice and other creative endeavours!
The authenticity and ingenuity of the submitted entries was overwhelming, and it has been challenging to pick one top prize winner (apologies for the delay!).
One entry in particular caught the attention of the ESA judges for the combination of creative effort and motivation, so we selected Cristina Romero from Spain as the top prize winner. The prize consists in a special visit to ESTEC, ESA's technical heart in Noordwijk (The Netherlands).
Below is Cristina's winning entry (translated into English):
"Missions like the one of Rosetta have allowed me to discover the wonderful world of space, and as a result I started to look for more information about these topics and I discovered my passion: space.
Since then, every day I need to learn something new, to read the news about advances in aerospace industry and follow the current missions.
I ended up with such a fascination with all this, that my big dream is to be able one day to study Aerospace Engineering, in order to take part to wonderful missions like this one. This is what's pushing me to keep working hard every day, to save up to accomplish my dream, and every time it takes a little less effort to achieve it.
On September 30, the day Rosetta landed on the comet, while I was watching the webcast, I created this pendant-shaped piece to remember everything that this mission has meant to me. It is entirely handmade with polymer clay, crafted while Rosetta was landing to finally rest on Comet 67P, together with Philae.
Many thanks to ESA and the entire team for sharing this mission with us.
Cristina"
We wish to thank again everyone who shared with us what the mission meant to them, and all followers of Rosetta and Philae worldwide. It is also thanks to you that the legacy of this extraordinary mission will live on forever.