This single frame NAVCAM image was taken on 6 March from a distance of 85.5 km from the centre of Comet 67P/C-G. The scale is 7.3 m/pixel and the frame measures 7.5 km across.
The image is deliberately offset from the centre because it was taken during a specific pointing for the Alice instrument. As described in a previous post, these Alice context images are currently slightly over-exposed on some parts of the comet, so we have again chosen to focus the processing on the activity.
Although taken on the same day as Monday's CometWatch entry, six hours separate the images – roughly half a comet day. From this angle, not only do we see completely different surface regions, but also a different and perhaps more detailed perspective on the comet's activity.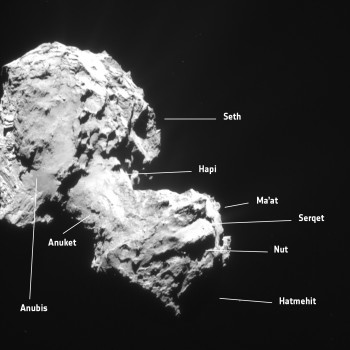 An annotated diagram is provided to guide the eye to different surface regions (the approximate boundaries are marked on the regional maps here and here).
On the small lobe, the small regions of Serqet and Nut can be seen. Serqet encompasses a sharp ridge and a flat smooth plain with a few boulders. Nut meanwhile, largely in Serqet's shadow in this view, is a small depression with many boulders bordering the Ma'at region. The silhouette of the large Hatmehit depression is just visible at the far right.
The transition from Serqet through Anuket and onto the smooth neck – Hapi – can be traced by the change in topography and surface textures.
On the large lobe, the boundary between the smooth terrain of Anubis and the circular and semi-circular structures that define Seth is also apparent.
The original 1024 x 1024 pixel image is provided below: