Today's CometWatch entry is a single frame NAVCAM image obtained on 6 March from a distance of 82.9 km from the centre of Comet 67P/Churyumov-Gerasimenko. The image has a resolution of 7.1 m/pixel and measures 7.2 km across.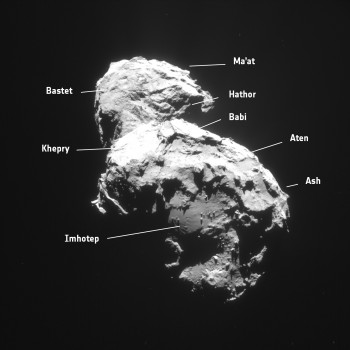 The view shows the underside of the comet's large lobe in the foreground, with the small lobe in the background. An annotated version of the image is also provided to help identify some of the comet's regions.
You can also find regional maps of Comet 67P/C-G here and here.
The original 1024 x 1024 pixel image is provided below: