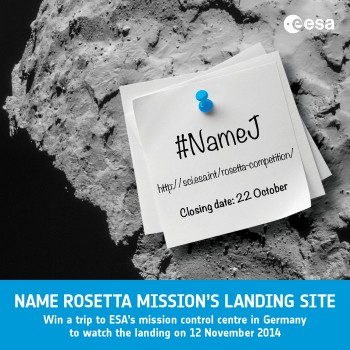 ESA and its Rosetta mission partners are inviting you to suggest a name for the site where lander Philae will touch down on Comet 67P/Churyumov–Gerasimenko on 12 November.
As the location of the first soft landing of a human-made object on a comet, the site, currently identified as Site J, deserves a meaningful and memorable name that captures the significance of the occasion.
The rules are simple: any name can be proposed, but it must not be the name of a person. The name must be accompanied by a short description (up to 200 words) explaining why this would make the ideal name for such an historic location.
A jury comprising members of the Philae Steering Committee will select the best name from the entries, and the winning proposer will be invited to follow the landing in person from ESA's mission control centre in Darmstadt, Germany on 12 November.
The competition runs until 23:59 GMT on 22 October. The winner will be announced on 3 November on the main Rosetta web page (www.esa.int/rosetta), this blog, and via ESA's social media channels, as well as on the German, French and Italian space agency (DLR, CNES and ASI) web pages and social media channels.
The competition is being run and coordinated by ESA, DLR, CNES and ASI. Entries from all competitions will be considered together, with one winner selected to attend the landing event in Darmstadt.
Full rules, terms and conditions can be found here
Enter the ESA competition here
Enter the DLR competition here
Enter the CNES competition here
Enter the ASI/INAF competition here
Read this article on the ESA Portal: Name Rosetta mission's landing site