YES! Call us in love with our beloved ATV, but we could not imagine a more romantic evening than lying in the grass next to our loved one, looking up at the heavens and trying to spot ATV-5 in the sky. Here's how!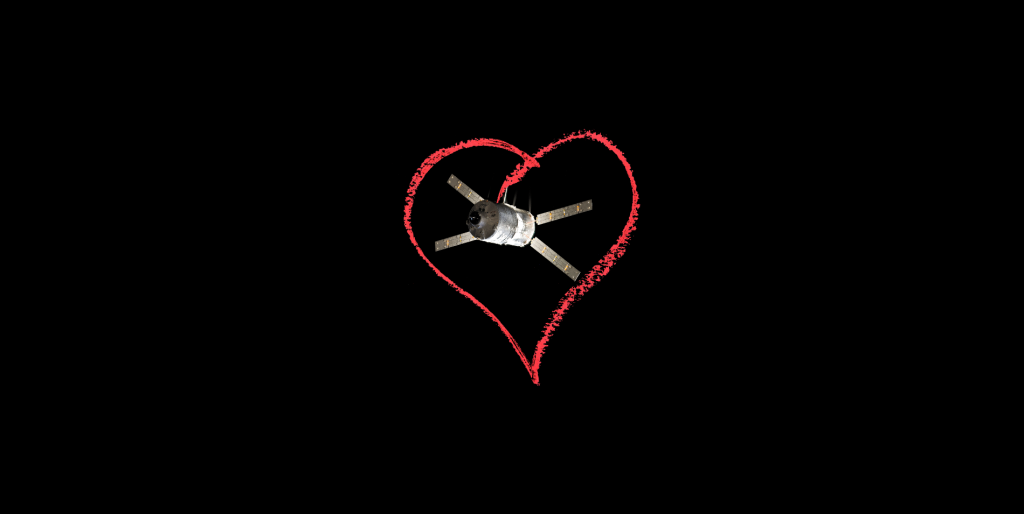 On 14 February, you and your Valentine date (or you and any other friend(s)) will have a more or less final opportunity – ever – to spot an ATV in orbit.
For about 5 minutes on Saturday evening, after undocking earlier in the day, ATV-5 will show up as a bright point in the sky at about 18:10 GMT (19:10 CET) travelling from the West to East. The spot of light will not blink (it's steady reflected sunlight) and it will move seemingly the same speed as a high-up plane. In reality, ATV-5 will be travelling over 34 times faster than a jumbo jet!
You will need to look straight West to see ATV rising above the horizon (if you're located on the red line in the map), or West and to the South (if you're located North of the red line), or West and to the North (if you're located South of the red line). The further you are North or South of the red ground track line, the lower ATV Georges Lemaître will appear above your horizon. ATV will appear as a faint but steady point of light, visible about a half a minute before the brighter and larger International Space Station.
Impress your significant other (current or to be) by knowing exactly when to look up using our map above, ESA's spacecraft tracker or NASA's ISS sightings website.
Get lucky
You can also impress us by sending your picture of the last-ever ATV streaking through the skies. The ten or so best photos (all judges' decisions final) will earn the photographer some soon-to-be vintage ATV memorabilia.
For tips on how to see and photograph Georges Lemaître and the International Space Station read this extensive blog post: Guide to photographing ATV Albert Einstein from your backyard – different spacecraft same principles apply.
Submit in your entries via Twitter to @esaoperations or as a comment to this post.