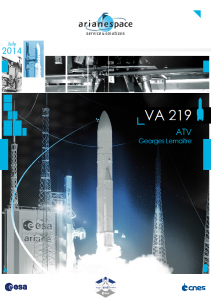 With ATV-5 lift-off on board Arianespace flight VA219 set for 23:44 UTC July 29 (note this equates to 01:44 CEST on 30 July), here are a few highlights covering the final count-down days.
Update from Eric Conquet, one of the ESA mission directors responsible for pre-launch activities, sent in at 01:09 this AM (!) during the launch dress rehearsal at ATV-CC
Jean-Christophe Ronnet, David Allain and myself, together with our colleagues from CNES, will spend several hours today (until 02:00 AM) in the ATV-CC control room to rehearse all operations from the pre-launch chronology with Kourou. The main objective of this rehearsal is to test, for the last time before the real launch, all procedures and ground systems to be used at Kourou, ATV-CC and all the centres involved in preparation for the flight (Moscow, Houston, Redu, COL-CC). Of course, on the Kourou side, our big baby is switched on and prepared for the flight.
So far, at H0-02:00, everything is fine and we are performing the final test before ATV can start its journey to the ISS. Today, this is all but real but in a few days the show will be fully real!
Upcoming activities
Friday, 25 July
NASA TOPO (Trajectory Operations Officer) to provide latest/best updates on ISS trajectory, allowing accurate launch time and phasing manoeuvre computations. ATV docking with the ISS is foreseen for 12 August under the current launch date.
ATV readiness presentation to the ISS IMMT (International Space Station Mission Management Team).
ATV operations and ground segment teams provide readiness update to the Launch Readiness Review (LRR).
Saturday, 26 July
Final launch time (L0) received via fax; ATV flight scenario for period L0 until docking updated; Updated mission plan.
Revue Avant Lancement (RAL) in Kourou; final preparations of launcher. The RAL is the final Arianespace/ATV review before flight.
Monday, 28 July
VA 219 rollout from BAF (final assembly building)  to Launch Zone; launch vehicle connections and filling of the EPC liquid helium tank.
Final ATV-CC operations briefing; check last readiness status and give the ATV Ops GO for flight.
L-1 prelaunch activities (includes transfer of last data from ATV-CC to Kourou)
Launch day
Tuesday, 29 July
14:00 – 14:30 CEST (ESATV) ATV 5 launch: Latest from Kourou (latest images of the preparation of ATV 5 and Ariane 5 in Kourou. Includes interviews with Nico Dettmann, Head of the ATV-programme, and Massimo Cislaghi, ATV-5 Mission Manager.
In Kourou: Start of final countdown (L0-11hrs:30mins) and launch countdown, including EPC filling with liquid oxygen and liquid hydrogen.
In Toulouse at ATV-CC: Start of ATV ground segment activities (L0-16hrs); joint ESA/CNES mission control team on console.
23:20 – 02:50 CEST (ESATV) ATV 5 Launch live transmission
L0 = 01:44 CEST (30 July)
All times and steps are, as always, subject to change.