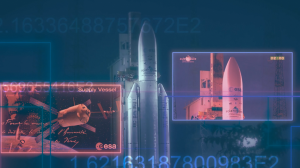 For ATV's final flight this year, ESA is releasing five educational videos based on the five visionaries that lent their name to Europe's space freighters. Jules Verne, Johannes Kepler, Edoardo Amaldi, Albert Einstein and Georges Lemaître form the inspiration to explain the principles of physics for young and old.
Presented by Anu Ojha, the series offers teachers a good basis to introduce schoolchildren to concepts such as Kepler's laws of planetary motion as well as special and general relativity.  Accompanying these videos are also a new set of resources that ESA education is producing: Teach with Space, a large set of demonstrations and teacher guides intended to bring the excitement of space into the classroom to inspire the next generation.
Win limited edition box sets
The films and demos will be made available through ESA's video channels during the course of ATV-5's mission but ESA is also producing a limited-edition DVD box set with all five films, pins and patches from each ATV mission and a booklet. The ATV blog has 5 of these sets to give away, to decide who gets these the ATV – education challenge was created.
The premise is simple: send us your own video demonstration of a lesson. Upload your video explaining and demonstrating a curriculum relevant law of physics, chemistry, or biology and its relevance to space.  The best five videos will be sent their box-set at the end of the deadline, 31st October 2014.
The editors decision is final, but points will be awarded for originality, professionalism, educational value, public opinion and humour always helps. Ideally the demonstrations should be practical to recreate in a classroom or outside safely, but if you happen to have an MRI scanner in your garage and think you can use it to demonstrate the existence of dark matter, by all means send it in.
How to play
Upload your video to your sharing service of choice such as YouTube or Vimeo and post its link in the comments to this post before 31 October until we get five entries or we decide we have had enough. That is it! The only rule is that ESA employees and family cannot take part. The winners will be contacted through this blog.