After some some quiet time at ATV-CC, today (Friday, 23 Aug) was again a hectic day as the ATV hatch was opened again after being closed prior to two Russian spacewalks. Mission Director Mike Steinkopf sent this update some minutes ago:
The crew successfully completed the inner hatch volume leak check (between the ISS hatch and ATV hatch) and opened first the ISS and – after further pressure equalization (pressure in ATV and in the ISS must be equalized) – the ATV hatch was opened at about 11:51 GMT (13:51 CEST).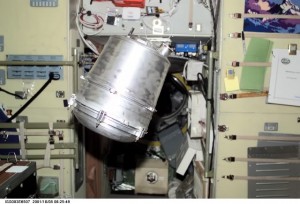 During the early afternoon, the crew transferred liquid waste from a US recycle tank into ATV's tank No. 1 (about 21.55l). 
Crew also just reported that drinking water transfer (about 66 liters) from ATV tank No. 3 into three specific water containers (called EDVs) was successful. 
This finishes another long day of operations.