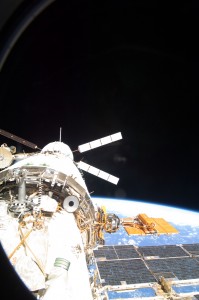 From ESA web portal:
The undocking of ATV-3 from the International Space Station late last night was postponed due to an incorrect command. During operations ATV-3 performed perfectly in line with its pre-defined measures.
A new attempt to undock will likely be made on Thursday, pending approval by the board of the Station management team this afternoon. Meanwhile, ATV Edoardo Amaldi is safe and in a dormant mode.
The issue was discovered by the Space Station crew shortly before undocking, when they attempted to send a command from a control panel to ATV-3. Receipt of the command was not confirmed by ATV-3, so the undocking was suspended.