Chair: Rupert Gerzer, Head of DLR Institute of Aerospace Medicine, Cologne, Germany
Chiaki Mukai, JAXA Astronaut, Vice Director for the Human Space System and Utilization Mission Directorate
Michael Barratt, Physician Astronaut and Manager NASA Human Research Programme
Peter Suedfeld, Dean Emeritus of Graduate Studies and Professor Emeritus of Psychology, University of British Columbia, Canada
Hermann Kuppe, Director, Institute of Anaesthesiology, Deutsches Herzzentrum Berlin, Germany
Boris Morukov, Physician at the State Research Centre RF-Institute for Biomedical Problems (IBMP), Russia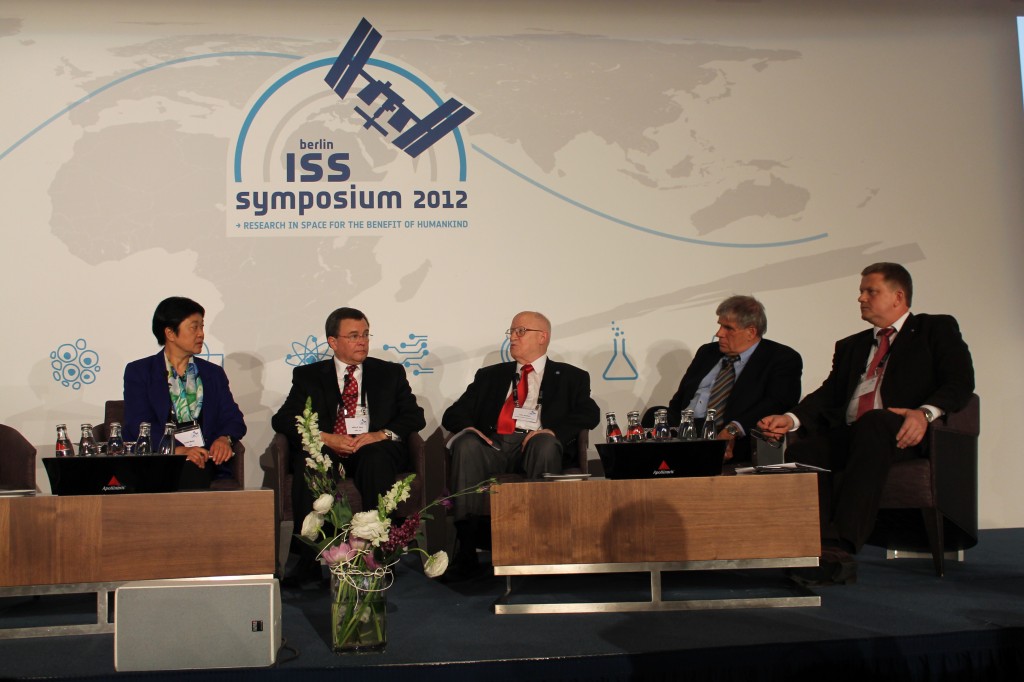 Chiaki Mukai:
If you wish to examine eye functions, you need a dark room, if you wish to examine hearing loss, you need a quiet room. Studying processes involving gravity really requires a place without gravity.
Bone loss in menopausal women is 1% per year, healthy astronauts in space lose bone density at 1% per month, over ten times quicker. Studying bone loss is much quicker in astronauts than on Earth.
Stress in space is unprecedented compared to isolated environments on Earth.
In early space flight psychological problems were not an issue. Longer term missions involving larger crews create stressful situations. Peter Suedfeld is looking at beneficial stress: many astronauts return to Earth with heightened awareness.
Hermann Kuppe on applying space research on surgery: new surgery requires cooling patients to 16 degrees to protect the heart during surgery. Measuring the temperature of these patients is done with a temperature sensor developed for the ISS.
Question and Answer session
Q: What do you see as challenges in terms of using ISS for education?
JAXA: We are trying to include all ages in our education projects, including seniors. International projects such as The international Humans in Space Youth Art Competition improve reach of educational projects even more.
Q: Medical ethics question: should we send young people to Mars or older people who have already experienced life?
IBMP: Probably older people will be better adapted to a mission to Mars.