Some clichés irritate me. Like the one that scientists, engineers or mathematicians are only interested in numbers and experiments. That is simply false. I do not claim to be an expert when it comes to music, cinema or literature, but like everyone else, I enjoy cultural activities. Which is fortunate, because without these types of entertainment, it would be difficult to last six months on the International Space Station. In this confined space, where we see the same people every day, our need to escape is perpetual and cultural distractions help with that.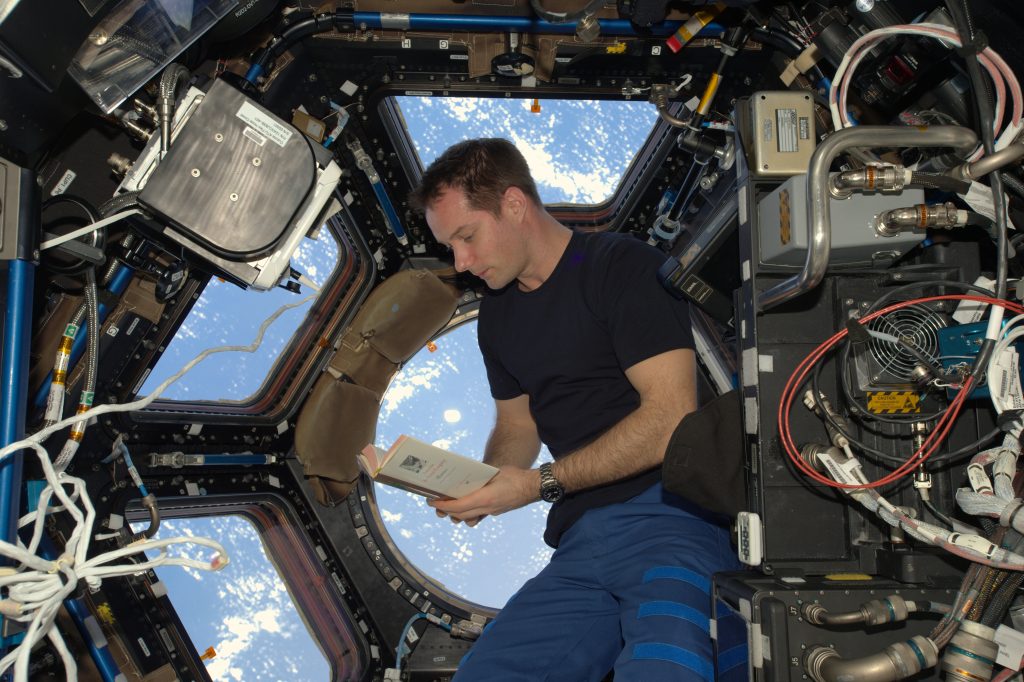 Obviously, we cannot take large books with us as storage is limited. I did bring five or six hard copies of books such as The Little Prince by Antoine de Saint-Exupéry, but the majority of my books are in digital form. The same goes for the hundreds of songs and movies I brought – they are stored on an external hard drive.
We do not spend much time reading or listening to books up here though. Scientific experiments, which occupy half of our time, require a great deal of concentration. I only have time for music, movies and series when I work out. I install my iPad at the front of the treadmill or the exercise bike and enjoy the brief getaway and peace that comes with these visual or audio distractions. Sometimes I also put my headphones on during repetitive tasks. When I move equipment from one module to another, I usually put on electro music, which is my favourite. It makes a task more fun. Then again, I do have to stop myself from dancing to avoid being mocked by my colleagues.
To me, culture is something that is to be shared. And because we are lucky enough to have a projector here we make use of it to have movie nights. We have only managed to do them four or five times but they were a lot of fun. Especially because the feature films we watched had not yet been released on Earth! Few people know this, but sometimes we are allowed to preview movies before they come out in cinemas. Not any movies, obviously. We mainly receive those that are related to human spaceflight. Directors and producers often consult NASA regarding technical questions and in return, they send us their movies to watch before anyone else.
Recently, the films we were sent included 'Hidden Figures', the story of African-American female computer programmers who worked at NASA during the space race in the 1960's, as well as 'Life', in which a mysterious life from another planet threatens the survival of International Space Station astronauts. Quite scary! I have to admit that I am fond of science-fiction movies. I am an astronaut after all. Though I can easily distinguish fact from fiction, I do love watching a good blockbuster set in space. Then again, by force of habit, I cannot help but notice and point out inconsistencies. I recall that in Christopher Nolan's 'Interstellar' (2014), the astronaut played by Matthew McConaughey takes six months to prepare for his mission. Believe me, that is not how it happens. It takes several years to learn the basics alone. And what about that secret space-base in the middle of some fields?! The same applies for Alfonso Cuaron's movie 'Gravity' (2013). In the film, the International Space Station and its occupants are hit by debris from a Russian satellite. That is simply impossible. All objects that orbit Earth have a different trajectory, making it almost impossible for a clash to occur. However, no need to worry, I will not attack Star Wars. The action scenes, the special effects.. when it comes to this saga I am no longer a fact-checking astronaut. I am transported back to my childhood and simply enjoy the movie!