Dr. Stijn Thoolen is the ESA-sponsored medical doctor spending 12 months at Concordia research station in Antarctica. He facilitates a number of experiments on the effects of isolation, light deprivation, and extreme temperatures on the human body and mind. Find this blog post in the original Dutch below.
Concordia, January 2, 2020
Sunlight: 24 hours
Real-feel temperature: -25 °C
State of mind: Going well
It's quite a happy happening today, so let's put on something fun. Feel free to put it on repeat.
It is a beautiful summer day. There is even less wind than usual (with constant summer temperatures, almost always a blue sky and few weather changes, we are mainly concerned with wind), so I am not afraid to go outside in my t-shirt today. The sun reflecting off the snow is attacking me from all directions, and I will most probably burn, but I don't care. It may be my only chance this year (and I imagine that in a few months I will look back on this day just like you must now look back at those days at the beach, or under the green trees, in the warm sun…).
It is busy in front of the station. To the left, an empty rack is being carried away, to the right boxes are sorted, behind me a human chain is carrying them away into a container, and in front of me the green "Merlot" hoists the heaviest stuff. The chaos has something of a busy market on the village square (but then just a little different). Everyone is helping to organize those few 1000 kilos of food brought in by the overland traverse. It had arrived here yesterday, finally, after a day or ten on the ice. Huge logistics. You could say that all that food has arrived just in time, after that monstrous New Year's Eve dinner two days ago (never seen so much food, not enjoyable anymore). But now that I see with my own eyes what is being stored in those containers and in the station, I am confident we won't starve this winter.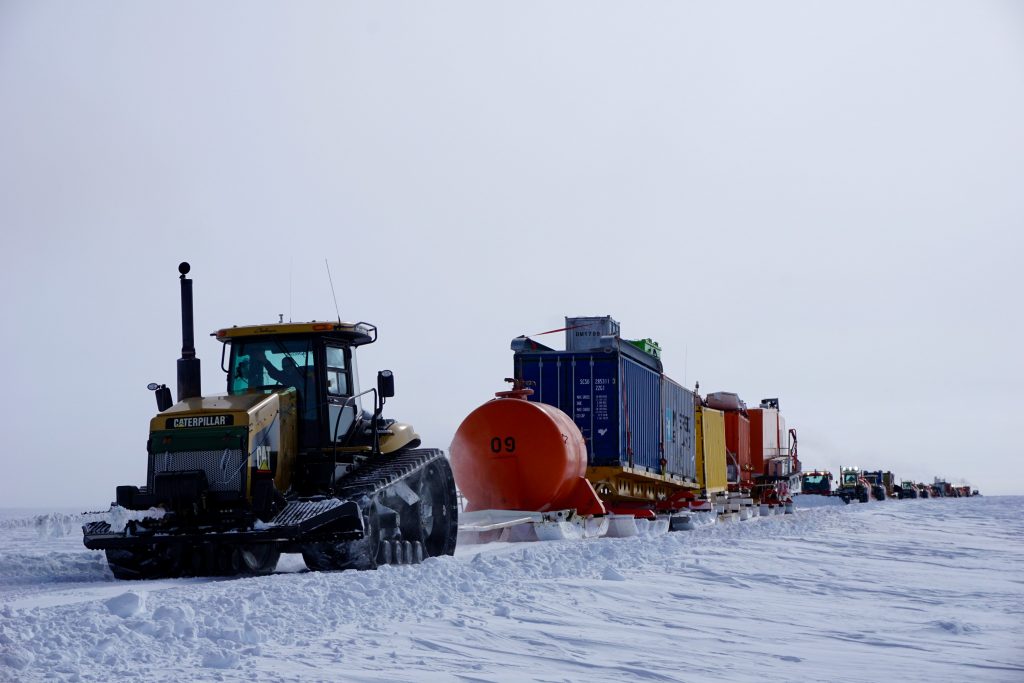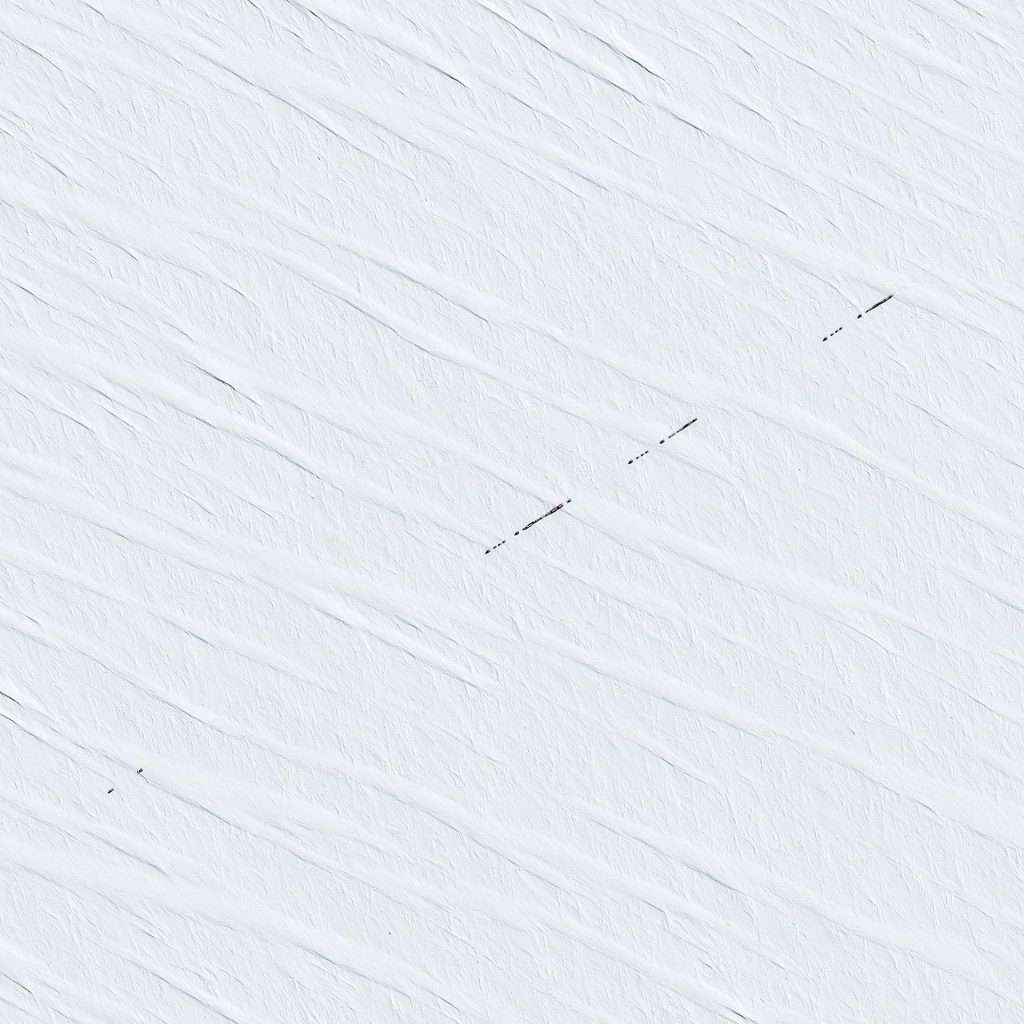 Summer feels like one big party. I have installed myself in the ESA lab by now, as well as within our DC16 crew, who are all still happy to participate in the biomedical research projects (the ESA lab is also a party). Every few days another plane comes in to deliver a new load of guests or equipment, and pick up old ones. Nobody lives here permanently (although some are almost considered part of the furniture after too many summer campaigns). We are all guests, and we are all working towards one common goal: knowledge.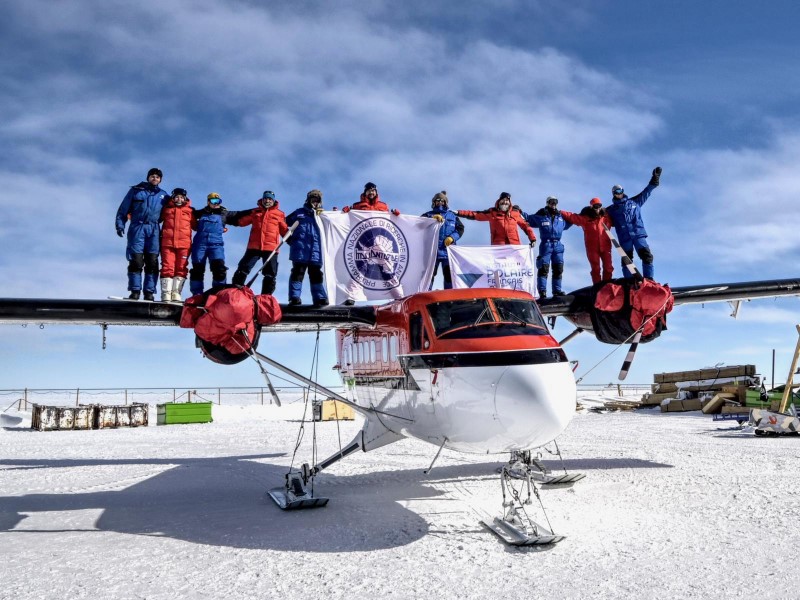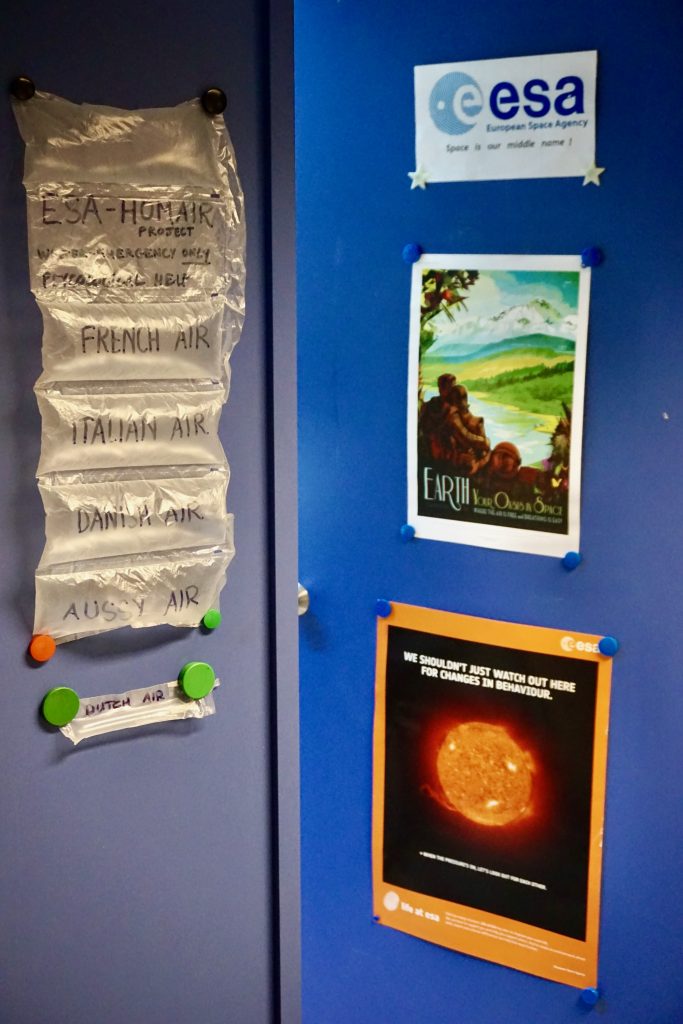 There are currently around 70 people here at Concordia, a beautiful collection of the most diverse backgrounds but with that same goal, and all of us equally idiot to think that Antarctica is interesting enough to leave the comfort of home for. Seismologists, carpenters, glaciologists, climatologists, electricians, mechanics, meteorologists, astronomers, plumbers, physicists, physicians, cooks, ICT specialists, a cleaner, and a station leader. It makes for a lively experience and ensures that there is plenty to discover besides writing blog posts.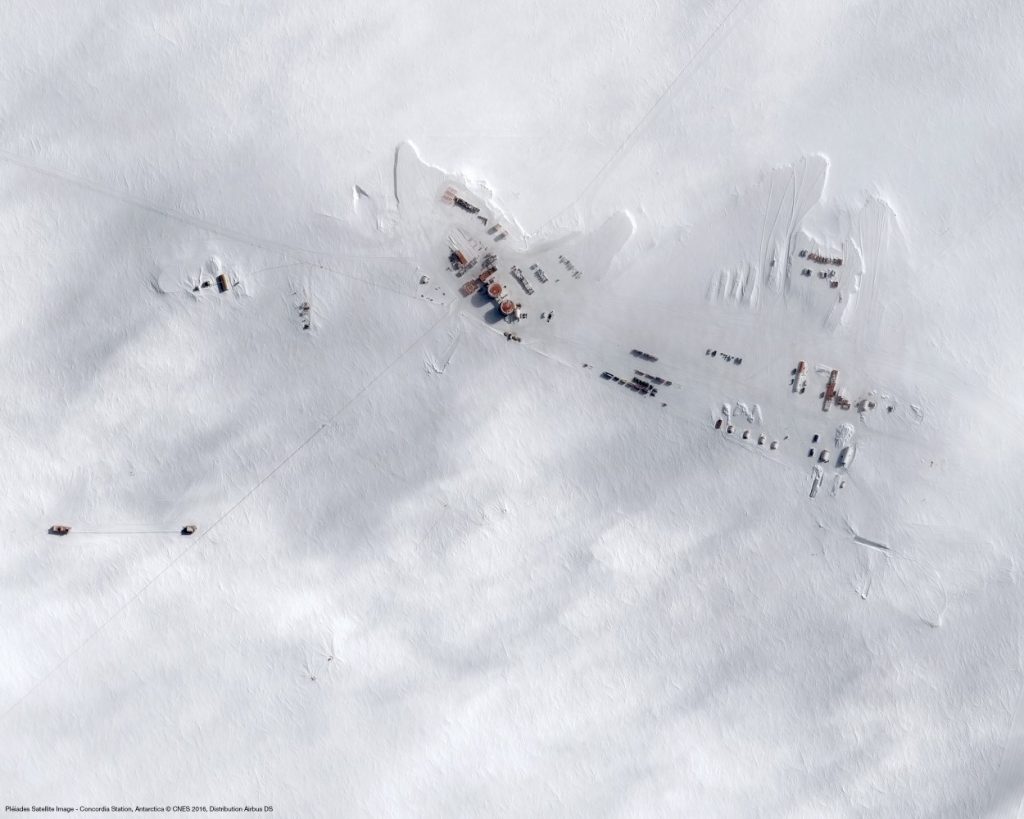 35 scientific projects are being carried out here this summer. Every day a weather balloon is released at an altitude of approximately 30 kilometers to contribute to our weather forecasts. In a cave 12 meters underground measurements are taken as part of a global earthquake observation network. ESA has installed instruments on the 40-meter high "American Tower" to communicate with satellites that monitor our Earth from outer space. A laser shoots into the air several times a day to better understand the properties of our atmosphere. At the same time, telescopes try to detect new planets that orbit around neighbouring stars lightyears away from us, and somewhere else again radioactive particles are being watched, reaching Concordia from outer space and from our Sun.
Based on the physical and chemical properties of collected snow, we learn how our climate has changed over the years and what effects that can have on our future. Did you know that you can find traces in this snow of an Indonesian volcanic eruption from almost 60 years ago? And traces of last century's glory days of nuclear bombing? What happens on the other side of our planet even has its consequences all the way here, at the end of the world.
And so there is "Little Dome C", our little brother, 35 kilometers away from us. In the coming years, the aim is to drill about two kilometers into the ice. Perhaps not as deep as the 3270-meter world record achieved by the historic EPICA project here at Dome C in 2004, but the ice cores are expected to be around 1.5 million (!) years old, allowing us to travel back in time twice as far. The ice here is actually a kind of diary of our world, and we can learn what our planet's climate has looked like before the Pleistocene (something relevant for reasons that I can't full reproduce). Unbelievable! This place is one big special museum, where we learn about our past, and for our future.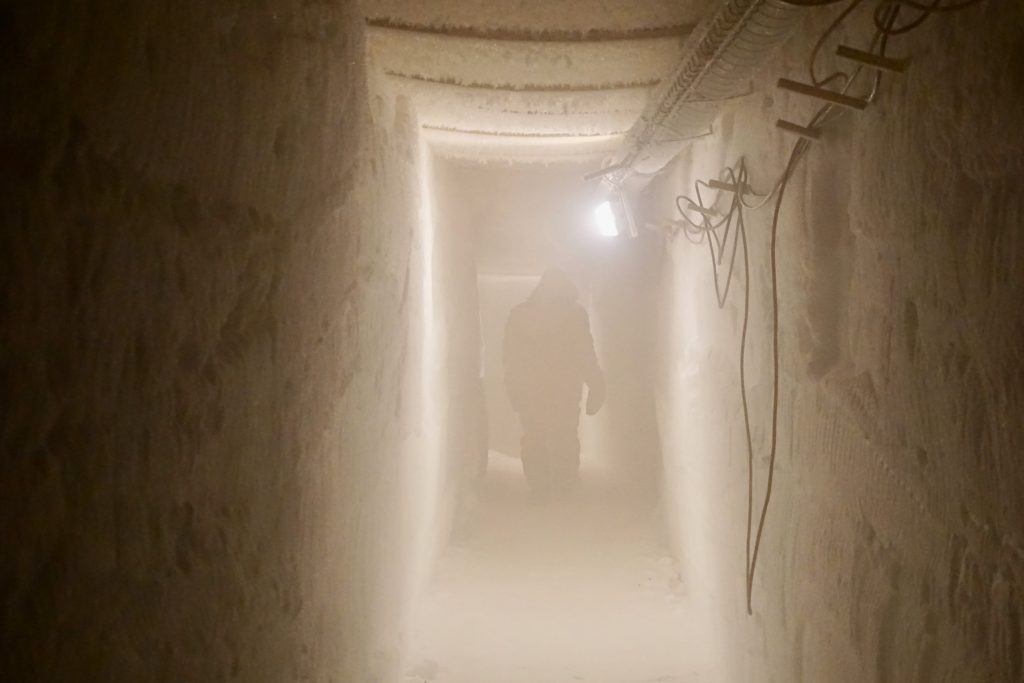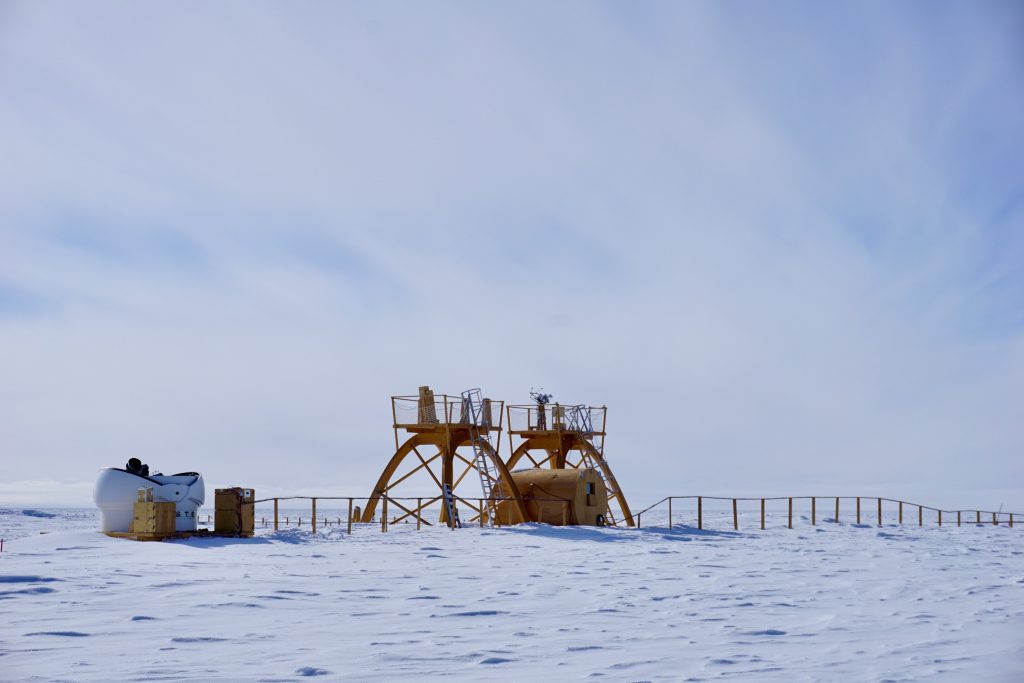 Not only scientifically speaking this place is a party. Concordia is also interesting from a cultural point of view. Apart from a few lost Americans and Swiss, everyone here is French or Italian. As we have already seen I therefore don't have to worry about the food (as opposed to my weight perhaps), and it is a luxury for improving my languages ​​(and my table soccer skills). It is quite interesting to notice the differences, both in work culture and in leisure activities. With all those different people, every year again group formation unfortunately seems inevitable (it is always easier to stick to your habits), and while the Italians are being Italian and the French are being French, I am kind of stuck in the middle. Perfect. Not only because as a "neutral" person I have the possibility to oversee the whole thing a bit, but especially because it allows me to make a sarcastic joke here and there. There is more than just France or Italy, you know.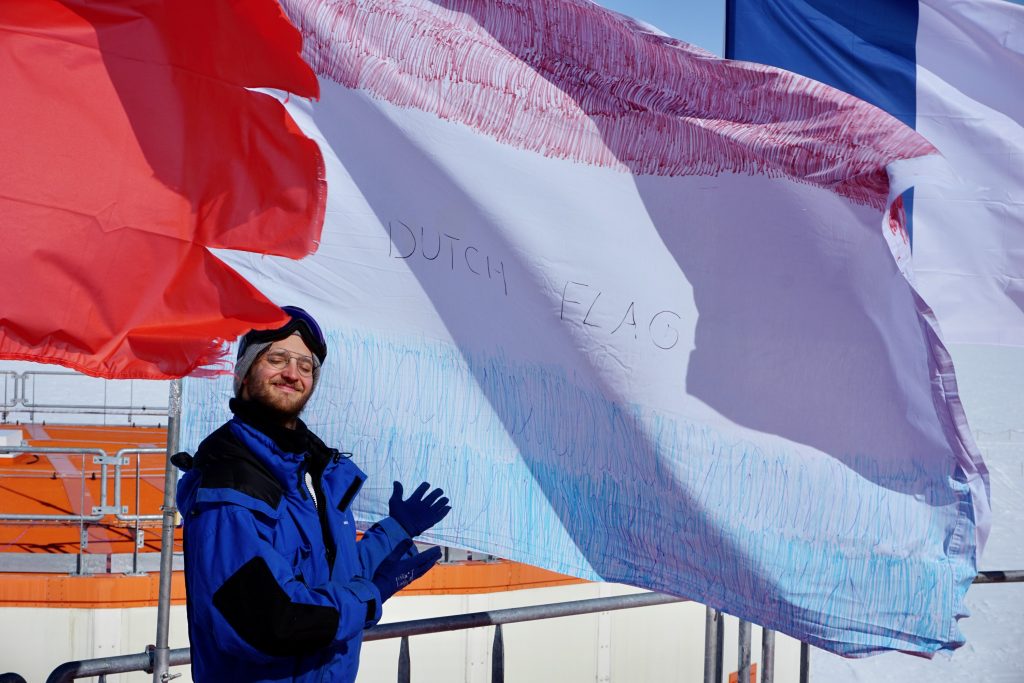 Think for example about the "Spacca Ossa", perhaps the most exclusive nightclub of this world, and the glue of Concordia that makes us all feel like one again. It makes a beautiful scene for the Saturday night, of which I won't share any photos with you. Our weekend usually starts on Saturday afternoon, and once scienced-out and done with partying, there is much more to enjoy: a home cinema, living room with pool and table soccer tables, an overdose of French comics (never knew that was a thing) and an even larger amount of music and films on the shared multimedia drive (interestingly enough mostly movies of bikini's and palm trees are playing overtime on TV), a collection of musical instruments, board games, the "Atomic Sausage" (a fantastically crafted-together expired snowmobile that officially maybe doesn't belong to this list), a gym, a game of rugby or volleyball outside in the snow, and I haven't even unpacked my personal fun box yet. And then, to head back to the summer spirit and exploit these wonderful sunny days just a bit more, there is the beach. I will never forget the radio conversation that made no sense at all in the middle of all the seriousness: "Houston, for Stijn. We are going to the beach." "Copy, Stijn".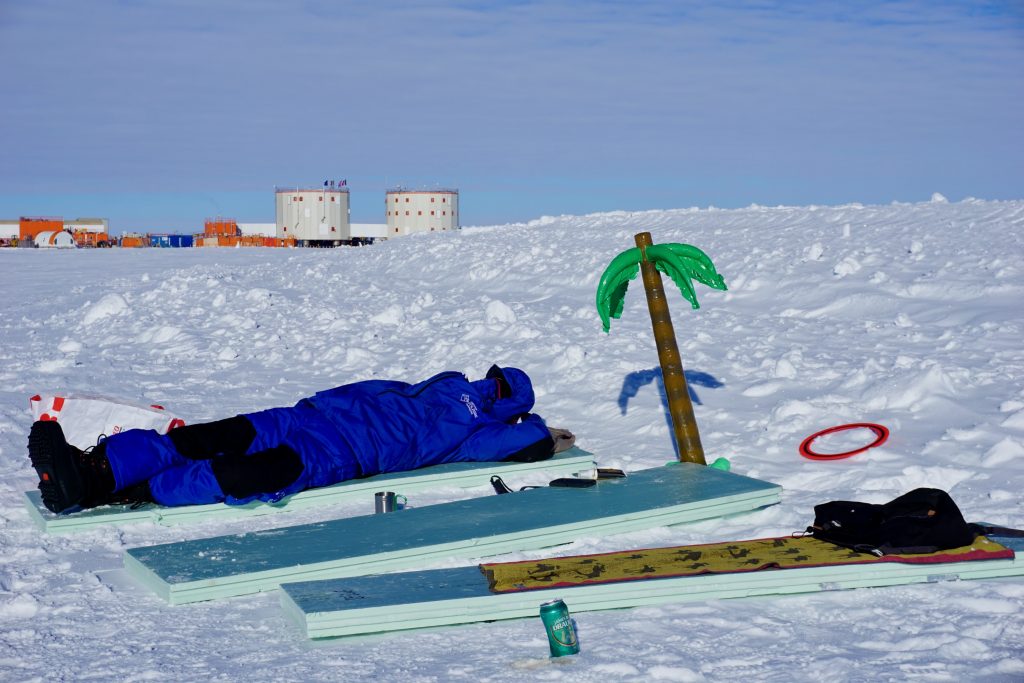 So it's a party. Sometimes this place feels like a three-star hotel, with everything you need available. Sometimes it all seems so normal, that I think it may make us spoiled one day. But at that New Year's Eve dinner two days ago, where everything was in abundance, I spoke with Vivien, our technical chef who is starting his second winterover in Concordia this year. This sense of certainty here is false, he told me, and he is right (is that music still on repeat? You may turn it off now). We are still at Concordia, one the most extreme and isolated places on earth. It is not difficult to imagine how quickly a small mistake can turn into a huge problem. What if the traverse doesn't show up? What do we do without fresh food, or more important, without fuel? The "Astrolabe", the ship that travels from Tasmania to coastal station Dumont d'Urville with all those supplies that are eventually brought to Concordia by the traverse, unexpectedly had to return for repairs early this summer. The entire logistics system was turned upside down, the traverse was delayed, and it was just hoping for a little while that we had sufficient reserves. And what if a fire breaks out? Or if someone gets sick? I myself have already hurried back inside a few times with pain in my fingers, and having seen multiple cases of frostbite, some fairly serious cases of altitude sickness (we have 35% less oxygen in the air than at home), and later even a car accident that could have ended much worse, I recognize how unforgiving this place can be. The monthly fire and rescue exercises may not be so bad after all.
Slowly slowly I am learning about my own limits as well. I try not to be too impulsive (let's forget about the snow dive at 3 AM last week), and carefully plan and experiment when I go outside. On Sundays I usually go for a run, and bit by bit I manage to keep my fingers and toes sweaty while I struggle increasing distances through the snow at -35 °C. Other gloves, spare goggles, extra batteries for the radio, an extra layer over the legs, but one less on top: it is a nice way to get to know this new, harsh environment.
When I go running, it is often a few kilometers from the station. Completely wrapped to protect myself, I stare through my half-frozen glasses once again over that endless, motionless ocean of ​​ice. Nothing on the horizon, barren, desolate, colder than anywhere else on Earth and no sign of life whatsoever, except for my own breathing. Typically these are the moments that make me realize it, just like during the trip to Little Dome C, or when collecting snow samples with the glaciologists far from the station. Then I realize where I am, and how vulnerable actually. Then all of it isn't so obvious anymore indeed.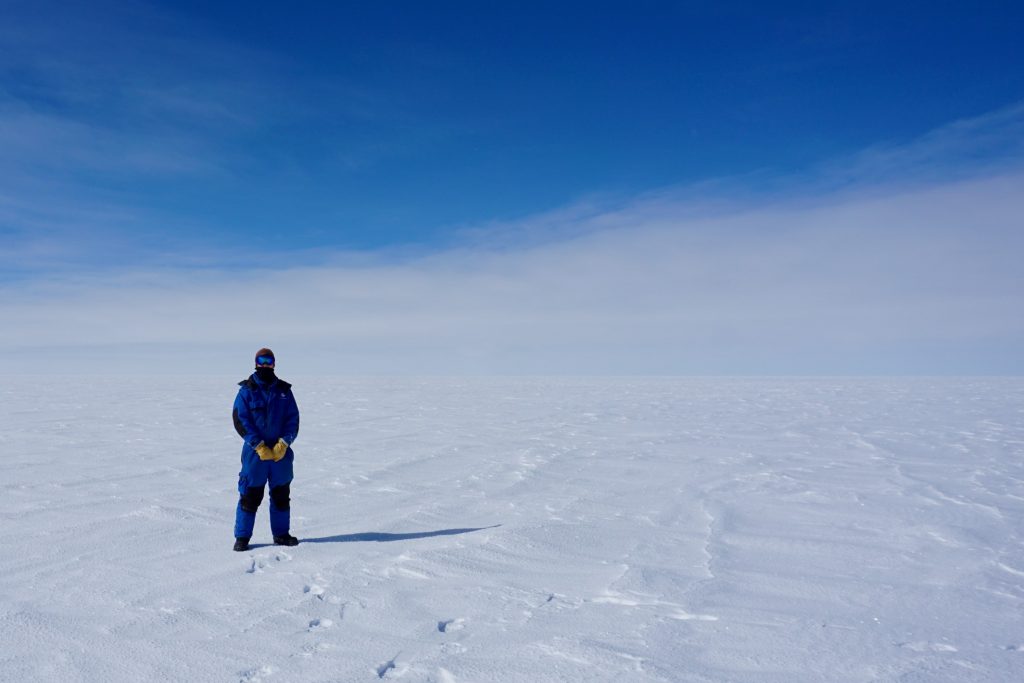 But it is these moments especially that make me most enthusiastic about all this. Just having read a book about NASA's Apollo program, I keep thinking about what Buzz Aldrin had said the moment he first set foot on the moon: "Magnificent desolation". To me, it describes it perfectly. It feels like a huge privilege to be able to live here for a year in this incredibly bizarre and desolate place. And while I hold on to that feeling, I can only fantasize about how extraordinary the winter must be. That hasn't even started yet…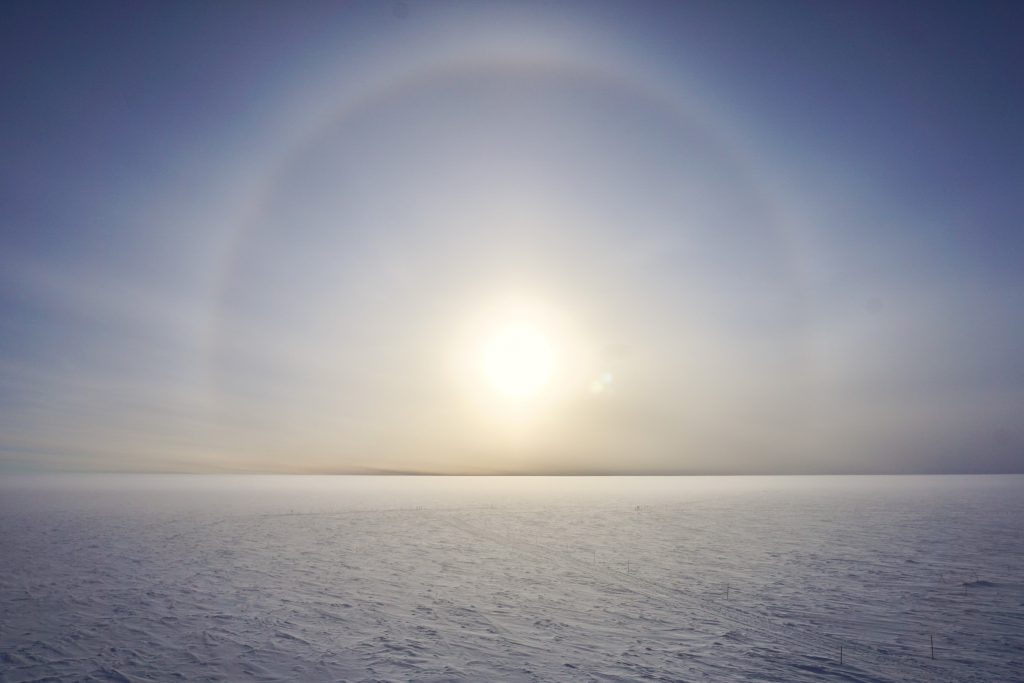 Schitterende verlatenheid
Concordia, 2 januari 2020
Zonlicht: 24 uur
Gevoelstemperatuur: -25°C
Gemoedstoestand: gaat lekker
Het is best een gezellige bedoeling vandaag, dus laten we er maar wat leuks bij opzetten. Mag gerust op repeat.
Little Green Bag – George Baker Collection
Het is een heerlijke zomerdag. Er is nog minder wind dan normaal (met constante zomertemperaturen, vrijwel altijd een strakblauwe lucht en weinig weersveranderingen zijn we vooral geïnteresseerd in wind), dus ik durf wel in t-shirt naar buiten te gaan vandaag. Dat de zon me door de reflectie in de sneeuw van alle kanten aanvalt en ik hoogstwaarschijnlijk ga verbranden boeit me even niet. Het is misschien wel mijn enige kans dit jaar (en ik stel me zo voor dat ik over enkele maanden terug ga kijken op deze dag precies zoals jullie op dit moment denken aan die dagen aan het strand, of onder de groene bomen, in de warme zon…). Het is druk vóór het station. Links wordt een leeg rek weggesjouwd, rechts worden dozen gesorteerd, achter me worden die middels een mensenketting een container ingedragen, en voor me takelt de groene 'Merlot' het zwaarste spul. De chaos heeft wat weg van een drukke markt op het dorpsplein (maar dan net een beetje anders). Iedereen helpt een handje mee om de paar 1000 kilo's aan voer te organiseren die de 'traverse' heeft meegebracht. Die was hier gisteren na een dag of tien over het ijs eindelijk gearriveerd. Een enorme logistiek. Je zou kunnen stellen dat al het eten mooi op tijd binnengekomen is, na dat monster-oudjaarsdiner (ik heb nog nooit zoveel eten gezien, niet leuk meer) van twee dagen geleden. Maar nu ik hier met mijn eigen ogen zie wat er in die containers en in het station wordt opgeslagen, maak ik me geen zorgen meer dat we deze winter zullen verhongeren.
Brandstof, levensmiddelen, materiaal, en het allerbelangrijkste: mijn persoonlijke 110 kilo aan plezier. De traverse gaat in de zomerperiode enkele keren op en neer vanaf de kust naar Concordia, over de ijskap, ter bevoorrading van het station, zodat wij met gerust hart de winter in kunnen.
De traverse gezien door de Franse Pleiades satelliet op 700 kilometer hoogte. Het ziet er maar kwetsbaar uit. Credits: CNES
De zomer lijkt wel één groot feest. Ik heb mezelf inmiddels geïnstalleerd in het ESA lab, en binnen onze DC16 crew, die vooralsnog allemaal even bereid zijn om met mijn biomedische onderzoeksprojecten mee te werken (ook het ESA lab is een feest). Om de zoveel dagen landt er weer een vliegtuig om een nieuwe lading gasten of materiaal af te leveren, en oude op te halen. Niemand woont hier namelijk permanent (al worden sommigen na te veel zomercampagnes bijna als meubilair beschouwd). We zijn allemaal te gast, en allemaal werken we hier aan één gemeenschappelijk doel: wetenschap.
Groeten van DC16 in zomersfeer. Credits: IPEV/PNRA – S. Guesnier.
Geïnstalleerd in het ESA lab. Nu het HOMAIR project ook in de behoeftes van Nederlanders voorziet, maak ik me geen zorgen meer.
Op dit moment zijn er zo'n 70 mensen hier in Concordia. Een prachtige verzameling van de meest uiteenlopende achtergronden, maar met datzelfde doel, en allemaal even idioot om te bedenken dat Antarctica interessant genoeg is om het comfort van thuis voor te verlaten. Seismologen, timmermannen, glaciologen, klimatologen, elektriciens, monteurs, meteorologen, astronomen, loodgieters, natuurkundigen, medici, koks, ICTers, een schoonmaker, en een stationsleider. Het maakt een levendige bedoeling, en zorgt ervoor dat er naast blogs schrijven genoeg te ontdekken is.
Concordia van bovenaf. Laboratoria en wetenschappelijke instrumenten liggen verspreid rond het station. Credits: CNES
Deze zomer worden hier 35 wetenschappelijke projecten uitgevoerd. Iedere dag wordt er een weerballon losgelaten die op een hoogte van ongeveer 30 kilometer bijdraagt aan onze weersvoorspellingen. In een grot 12 meter onder de grond worden metingen gedaan als onderdeel van een globaal netwerk ter observatie van aardbevingen. Op de 40-meter hoge 'American tower' heeft ESA instrumenten geïnstalleerd om met satellieten te communiceren die onze aarde vanuit de ruimte in de gaten houden. Meerdere keren per dag schiet er een laser de lucht in om de eigenschappen van onze atmosfeer beter te begrijpen. Tegelijkertijd proberen telescopen nieuwe planeten te ontdekken die lichtjaren van ons vandaan rondom nabijgelegen sterren draaien, en weer ergens anders wordt naar de radioactieve straling gekeken die vanuit de ruimte en vanaf onze zon Concordia bereiken. Aan de hand van fysieke en chemische eigenschappen van verzamelde sneeuw leren we beter begrijpen hoe ons klimaat over de jaren is veranderd, en wat voor effecten dat kan hebben voor onze toekomst. Wist je dat je in deze sneeuw zelfs de sporen van een vulkaanuitbarsting in Indonesië van bijna 60 jaar geleden kan terugvinden? En van de hoogtijdagen van het nucleaire tijdperk in de vorige eeuw? Wat er op de andere kant van onze planeet gebeurd is, heeft zelfs hier, aan het einde van de wereld, zijn gevolg. En zo ligt 35 kilometer verderop 'Little Dome C', ons kleine broertje. Het plan is om hier de komende jaren zo'n twee kilometer de diepte in te boren. Dat is misschien niet zo diep als het wereldrecord van 3270 meter dat het historische EPICA project hier op Dome C in 2004 bereikt heeft, maar er wordt verwacht dat de opgeboorde ijskernen van 1.5 miljoen (!) jaar oud ons wel twee keer zo ver terug in de tijd laten kijken (het ijs hier is eigenlijk een soort dagboek van de wereld). Zo leren we hoe het klimaat van onze aardbol er uit heeft gezien voor het Pleistoceen (en dat is relevant voor redenen die ik hier niet kan opnoemen). Ongelooflijk! Het is hier eigenlijk één groot bijzonder museum, waar we leren over ons verleden, en voor onze toekomst.
Ondergronds richting de 12-meter diepe 'sismo cave', waar we met een constante -55°C vast kunnen wennen aan de winter.
We hebben hier zelfs een McDonalds. Maar deze zoekt naar exoplaneten.
Niet alleen wetenschappelijk gezien is het hier feest. Het is ook bijzonder op cultureel gebied. Op een paar verdwaalde Amerikanen en Zwitsers na is iedereen hier Frans of Italiaans. Over het eten hoef ik me dus zoals we al gezien hadden geen zorgen te maken (in tegenstelling tot mijn gewicht misschien), en het is een luxe om op deze manier aan mijn talen te werken (en aan mijn tafelvoetbalvaardigheden). Het is best interessant om de verschillen op te merken, in zowel werkcultuur als in vrijetijdsbesteding. Groepsvorming lijkt dan ieder jaar helaas toch onvermijdelijk (het is altijd gemakkelijker om bij je gewoonten te blijven), en terwijl de Italianen lekker Italiaans zijn en de Fransen lekker Frans, zit ik er mooi tussenin. Perfect. Niet alleen omdat ik als 'neutraal' persoon de boel zo een beetje kan overzien, maar met name omdat het me in staat telt om hier en daar een sarcastisch grapje uit te voeren. Er is namelijk meer dan alleen Frankrijk of Italië.
Taadaa, het Nederlandse bedlaken wappert eindelijk ook op het dak.
Zo is er bijvoorbeeld de 'Spacca Ossa', misschien wel de meest exclusieve nachtclub ter wereld en de lijm van Concordia die ons allemaal weer even als één laat voelen. Een prachtig tafereel voor de zaterdagavond, waarvan ik met jullie geen foto's ga delen. Ons weekend begint iedere week op zaterdagmiddag, en eenmaal uitgewetenschapt en uitgefeest is er nog veel meer aan plezier te beleven. Een thuisbioscoop, woonkamer met pool- en tafelvoetbaltafel, een overdosis aan Franse stripboeken (nooit geweten dat dat een ding was), een nog veel grotere hoeveelheid aan muziek en films op de gemeenschappelijke harde schijf (met name de filmpjes met bikini's en palmbomen draaien overuren op tv), een verzameling muziekinstrumenten, gezelschapsspelletjes, de 'Atomic Sausage' (een geweldige in elkaar geknutselde sneeuwscooter over datum die officieel misschien niet in dit rijtje thuishoort), een sportschool, een stevige pot rugby of volleybal in de sneeuw, en dan heb ik mijn persoonlijke plezierdoos nog niet eens uitgepakt. En dan, om nog even in de zomersferen te blijven, is er het strand. Ik zal het gesprek over de radio, dat tussen al die serieuze gesprekken door nergens op sloeg, nooit vergeten: "Houston, voor Stijn. We gaan naar het strand." "Copy, Stijn".
Concordia Beach. Uitzicht over een eindeloze ijszee, en met een beetje fantasie lijkt het gepiep van de voertuigen op de achtergrond best op een stel zeemeeuwen.
Een feest dus. Soms lijkt het hier wel een driesterrenhotel, met alles voorhanden. Soms lijkt het allemaal zo normaal, dat we er nog eens verwend van zouden raken. Maar aan dat oudjaarsdiner van twee dagen geleden, waar alles in overvloed was, sprak ik met Vivien, onze technische chef die dit jaar aan zijn tweede overwintering in Concordia begint. Het is een valse zekerheid, vertelt hij me, en dat klopt ook wel (staat dat muziekje nog op repeat? Die mag nu wel weer uit). We zijn nog altijd in Concordia, één van de meest extreme en geïsoleerde plekken op aarde. Het is niet moeilijk om je in te denken hoe snel een kleine fout hier om kan slaan in een enorm probleem. Wat als de traverse niet komt opdagen? Wat doen we zonder vers voedsel, of nog belangrijker, zonder brandstof? De 'Astrolabe', de boot die van Tasmanië naar kuststation Dumont d'Urville vaart met al die goederen die uiteindelijk met de traverse naar Concordia worden gebracht, moest onverwachts gerepareerd worden begin deze zomer. De hele logistiek lag op zijn kop, de traverse was vertraagd, en het was even hopen dat we tot die tijd voldoende reserves hadden. En wat als er brand uitbreekt? Of als iemand ziek wordt? Ik ben zelf al een paar keer met pijn in mijn vingers naar binnen gerend, en met meerdere bevroren vingers op het station, enkele vrij serieuze gevallen van hoogteziekte (we hebben hier 35% minder zuurstof in de lucht dan thuis), en later zelfs een auto-ongeluk dat slechter had kunnen aflopen besef ik me hoe onvergeeflijk het hier kan zijn. De maandelijkse brand- en reddingsoefeningen zijn misschien zo gek nog niet.
Zelf leer ik langzaam mijn eigen grenzen kennen, probeer ik niet te impulsief te zijn (laten we de sneeuwduik om 03:00 uur 's ochtends vorige week maar even vergeten), en voorzichtig te plannen en experimenteren als ik naar buiten ga. Op zondagen ga ik hardlopen, en beetje bij beetje lukt het me om mijn vingers en tenen zwetend te houden terwijl ik met -35°C toenemende afstanden door de sneeuw ploeter. Andere handschoenen, een reserve sneeuwbril, toch extra batterijen mee voor de radio, extra laag over de benen, maar een laag minder aan de bovenkant: het is een mooie manier om kennis te maken met deze nieuwe, strenge omgeving.
Als ik ga hardlopen, dan is dat vaak enkele kilometers van het station vandaan. Volledig ingepakt om mezelf te beschermen staar ik dan vol verwondering door mijn halfbevroren bril nog eens over die eindeloze, bewegingloze zee van ijs. Niets aan de horizon, bar, verlaten, kouder dan waar dan ook op aarde en geen enkel teken van leven behalve mijn eigen gehijg. Het zijn typisch deze momenten dat ik het me realiseer, net zoals tijdens de trip naar Little Dome C, of tijdens het verzamelen van sneeuwmonsters met de glaciologen ver van het station. Dan realiseer ik me weer waar ik ben, en hoe kwetsbaar eigenlijk. Dan is het allemaal inderdaad niet zo vanzelfsprekend meer.
Onderweg naar Little Dome C vraag ik me nog eens af waar ik ben, en wat ik met mijn handen moet doen. Het doet me een beetje denken aan de Matrix white room.
Maar het zijn juist die momenten die me eigenlijk nog het meest enthousiast maken over dit alles. Net een boek gelezen over NASA's Apollo programma moet ik telkens denken aan wat Buzz Aldrin had gezegd op het moment dat hij zijn eerste stappen op de maan zette: "Magnificent desolation", een schitterende verlatenheid. Het omschrijft het voor mij perfect. Het voelt als een enorm voorrecht om hier een jaar te mogen wonen, op deze ongelooflijk bizarre en verlaten plek. En terwijl ik me vasthoud aan dat gevoel, kan ik alleen maar fantaseren over hoe bijzonder de winter wel niet moet zijn. Die is nog niet eens begonnen…
Mijn uitzicht vanuit het ESA lab. Een haast nep-zo-heldere horizon op een prachtige zomeravond. De halo rond de zon is een reflectie van minuscule ijskristallen die door de lucht dwarrelen. Een schitterende verlatenheid!