UPDATE 7 June, 16:00 CEST:
The first LISA Pathfinder reddit AMA is complete –  find it here. Many thanks to all participants, both from the outside world and the LISA Pathfinder Collaboration.
Replay of today's news conference can be found here – and don't forget to read today's announcement: "LISA Pathfinder exceeds expectations".
Original Post:
LISA Pathfinder is ESA's mission to test the critical technologies required to observe low frequency gravitational waves from space.
Following the news conference on 7 June (which will be livestreamed from ESA ESAC in Madrid, Spain) we will conduct an AmA (Ask me Anything) session on reddit:
We are scientists working on the European Space Agency's LISA Pathfinder mission to prove key technologies and techniques needed to observe gravitational waves from space – ask us anything!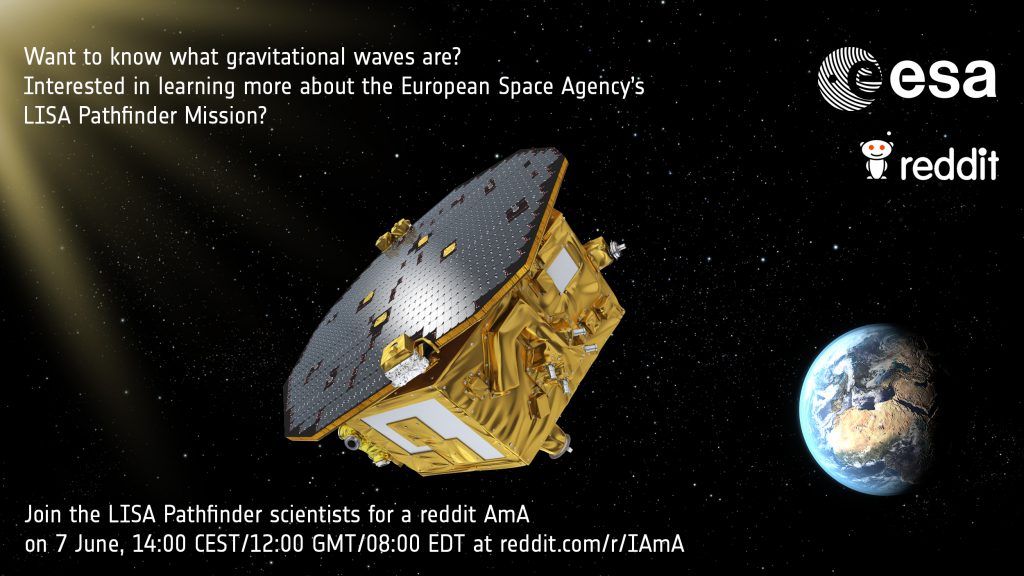 The AMA will take place at 14:00 CEST/12:00 GMT/08:00 EDT on reddit.com/r/IAmA (but will appear there only as of 30 minutes before it starts).
The following colleagues will answer your questions:
Paul McNamara, LISA Pathfinder Project Scientist at ESA
Stefano Vitale, Principal Investigator of the LISA Technology Package from University of Trento and INFN, Italy
Martin Hewitson, LISA Pathfinder Senior Scientist from Max Planck Institute for Gravitational Physics and Leibniz Universität Hannover, Germany
Claudia Mignone, Science Writer, ESA
Marco Trovatello, Cross-Media Coordinator, ESA
Frequently asked questions regarding reddit AMA's and how they work can be found here.
We are looking forward to your questions.