Funnily enough, it has only occurred to me after introducing almost all of our other CAVES team members that I have not introduced myself. So here I am, to fulfil this somewhat challenging task.
I would usually start by writing about how a team member became involved with  CAVES. Truth be told, talking about how I came to be involved in CAVES is really as much a story about the way the programme started as it is about my involvement.
In 2001, when I worked in the ESA Aurora preparatory exploratory programme, responsible for the Human Mars Mission studies I realised that long duration missions were not only complex because of the technical issues: the human factor also deserves great consideration. Two years later I became responsible for Human Behaviour and Performance training (HBP). This training is really getting people to work safely and effectively as multicultural teams in critical and challenging working environments.
HBP training takes into account human physiology, organisational psychology, crew resource management, behavioural economics, peak performance, and the requirements of special situations and environments. In that year with the support of a colleague and a Human Factors training consultant we funded the ESA HBP training. We also had the first session of the Astronauts Operational Skills training programme, organised by the special forces of the Italian Army.
It was at the end of one of these training events that caves were suggested as a potential environment into which we could send our astronauts, to simulate and explore stressors, human performance and teamwork.
In 2008 we went underground for the first time. Since then, I've been working to exploit underground environments and speleology (the scientific study of caves) as a science and exploration activity. Our goal is to build – in the world of the CAVES 2013 Cavenauts – "one of the best, arguably the best terrestrial space analogue we have ever been trained in".
Of course to do that I needed the help of scientists and explorers, so I spent my next couple of years becoming a speleologist myself and looking for "the right stuff". In our case this means suitable caves, a science programme, speleologists, scientists, and explorers.  A job like mine rarely stays at work. My interest has flowed into my private time of course, I then bring it all into the office.  I design the course, the mission, the expedition, and the operations. I've had a lot of fun. I wouldn't call it easy, but fun. After all— we do all this "not because it is easy, but because it is hard".
Speleology has become part of my personal as well as professional life. I've met fantastical and improbable explorers and scientists with passion and curiosity for the unknown on the many speleological expeditions I took part in around the world.
I have learnt so many things. Within the CAVES course I play the role of the project manager, course designer, course director, the HBP facilitator, and the mission director. I need to coordinate the science team, the video team, the logistics team, and the operations team. I need to speak everyone's specialist language, comprehend their needs, and then integrate all the pieces of the puzzle into a meaningful course. Of course, then there's the task of communicating about it all  all, with twitter, this blog, scientific articles and presentations.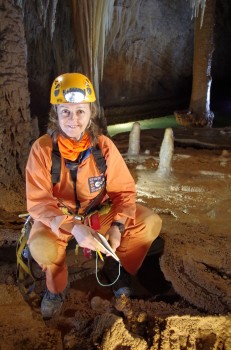 I'm evolving into a specialist at knowing very little about very many things. Being a naturally curious person, I really believe I have a dream job.
Loredana Bessone
*Editor's note: Loredana takes on her many and varied duties every day with a positive attitude and a wide smile on her face.