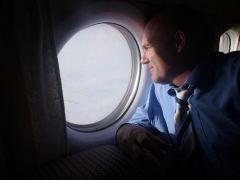 The voyage to the launch site Baikonur in Kazachstan is an experience in its own right. The prime crew and backup crew travel in separate planes. We do everything separately, if something were to happen to us, the backup crew needs to be able to climb into the Sojuz. Strangely, both crews did get into the same lift at Roscosmos. At the military airbase in Star City we needed to go through passport control just as everyone else. The rules are no different for cosmonauts. The plane was equipped with tables and sofas. It looks more like a cosy living room than a plane. The table was laid with delicous food and a lot of it. The food was probably left over from the traditional cosmonaut breakfast. That event was very ceremonial and the food stayed mainly untouched.
Under supervision
Everyone who has something to do with the last-minute launch preparations travels to Baikonur. Sojuz and ISS instructors, sport instructors, management, doctors, representatives from ESA, NASA and JAXA, cooks and a waitress. We stay at a special hotel away from the town of Baikonur. We cannot go to a restaurant. We would not be allowed to anyway, as we are in quarantine. Doctor Savin keeps a close eye on me to make sure that I do not shake hands with anyone or come into contact with a large crowd. The crew needs to be free of illness, only people that are healthy can be in contact with us and only if it is necessary for the flight.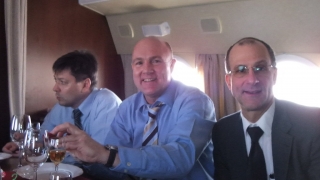 There is a lot of snow in Kazachstan. The flight out here was very beautiful. When we landed we were met by representatives who had been waiting in the freezing cold. We were escorted by police to the cosmonaut hotel. This is where we will stay until the launch. We are expected to rest and eat well. But a lot of things are planned during the last two weeks. We received the flight documents so that we could add our own notes. We have to sign packs of photos that are distributed to all the people who have worked on this flight. And we exercise to keep in shape. We also spend a lot of time thinking about the personal items we are allowed to take with us: one and a half kilos. Strict rules apply. No electronic gadgets, nothing that could be sold to collectors and nothing that could jeopardize safety, no matter how small the risk. I had brought two fly fishing hooks for a friend. I was only allowed to take them up if the hooks were cut off.
More photos of my trip to Baikonur can be found here