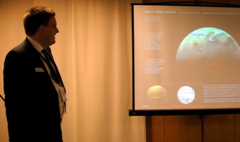 Our colleague Thomas Ormston, who leads VMC activities for the Mars Express team here at ESOC, recently presented a paper at the 61st International Astronautical Congress (IAC) in Prague, Czech Republic.
The paper, "An Ordinary Camera In An Extraordinary Location: Outreach With The Mars Webcam," covered the history of the VMC project and provided details on camera operations and our results to date in publishing results to this blog. It also described the outreach successes of the project, highlighted some of the contributions from the Mars Webcam community, explained opportunities to use and work with the Mars Webcam and plans for future camera activities.
The paper was the product of a joint effort and made use of input from the entire Mars Express team (thanks guys!) – it's an excellent review of VMC activities to date. You can click on 'Full story' below.
We'd like to thank everyone who attended Thomas' presentation at IAC and, in particular, we'd like to give a big shout out to Beth Beck, who posted the following note in her blog:
"My fav presentation was European Space Agency's Mars WebCam project. You'll just have to check it out. The best example of 'participatory exploration' that I've seen. They turned an unused mission camera back on to take photos of Mars. They offer the data to the public to process. The Mars WebCam folks post the "processed" images back on their site. Quite wonderful. They've created an amazing, enthusiastic community of Mars-watchers, who participate in the mission voluntarily with hundreds of hours of processing time to their credit."
Thanks, Beth, for your kind words! – Daniel
Our IAC 2010 paper