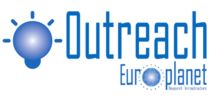 The VMC team at ESOC were very happy to learn that they had been given a special mention from the Europlanet Prize for Public Engagement 2010. It is awarded to individuals or groups who have developed innovative practices in planetary science communication and whose efforts have significantly contributed to a wider public engagement with planetary science. The main award was won by Dr Jean Lilensten of the Laboratoire de Planétologie de Grenoblefor his long standing work magic of planetary aurora with school children and members of the public across Europe, using his 'planeterrella' experiment.
The VMC team are proud and excited to receive this terrific special mention from an organisation that lies at the heart of planetary science in Europe. The testimonies that go with the special mention reflect exactly what we hope to achieve with the Mars Webcam and it is gratifying to receive this recognition for the project.
The Mars Webcam project aims to bring the excitement and interest of planetary exploration direct to educational institutions and the public by making you our scientists and investigators. We often say VMC is "an ordinary camera in an extraordinary location," but the results submitted to our blog by you show just how extraordinary the results from the VMC can be, too.
The whole VMC team thanks the Europlanet Outreach Steering Committee for awarding us this special mention. We also would like to thank all those within ESA who have supported the project. Of course you - the visitors and contributors to the VMC blog - share this accolade with us, since it has been your support that makes the Mars Webcam a success!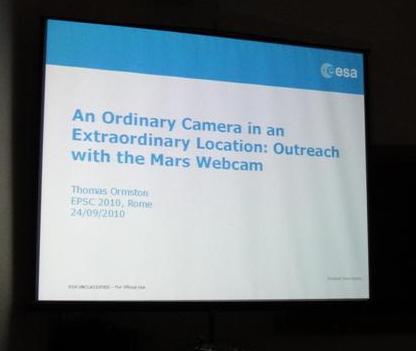 A presentation on the VMC and the Mars Webcam Blog (including sincere thanks from the whole VMC team to the EPSC folks) was given at the European Planetary Science Congress in Rome today. Here we took the chance to explain how much of a success VMC has been and how the participation of the general public in the exploration of Mars is something that helps bring the data from Mars alive.
Please do keep visiting the blog and submitting your interpretations of VMC images and help keep the project as dynamic and interesting as it has always been. More information is available at the "Help us with VMC" link on the right. -- Thomas