Today's CometWatch entry is dedicated to Comet 67P/C-G's activity – this stunning montage of images is showcased as our 'Space Science Image of the Week'.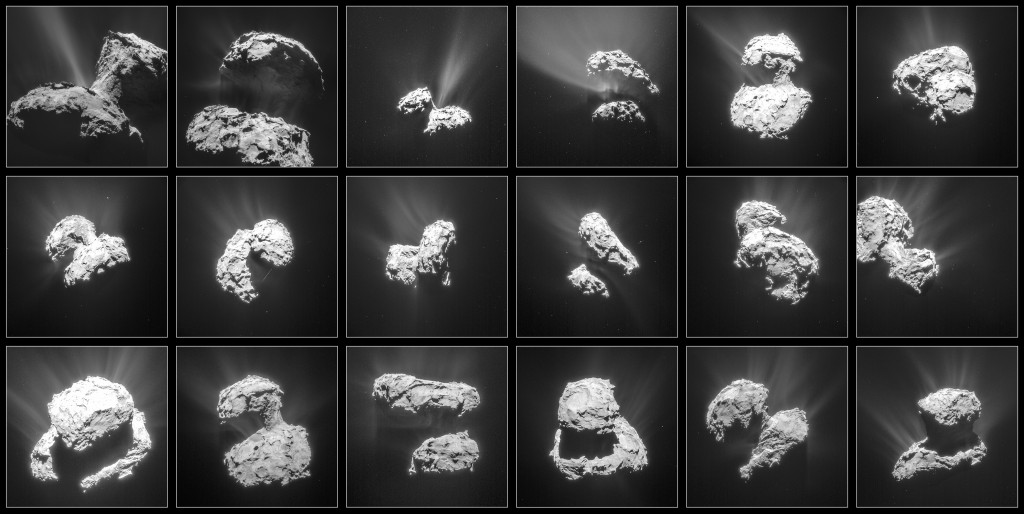 The images cover the time period between 31 January (top left) and 25 March (bottom right), when the spacecraft was at distances of about 30 to 100 km from the comet. The final frame is also presented as today's CometWatch.
This image, acquired by Rosetta's NAVCAM on 25 March, was taken from a distance of 86.6 km from the centre of the comet. The image resolution is 7.4 m/pixel and the 1024 x 1024 pixel image measures 7.6 km across. A processed version is presented above that emphasizes the outflowing material while also maintaining details of the nucleus. This version is also cropped to measure 6.9 km across.
As with recent similar views of the comet in this orientation, we are now seeing more of the comet's smaller lobe that was previously in shadow, revealing more details of its fascinating surface features. Meanwhile, the comet's activity also continues to impress.
The original 1024 x 1024 pixel frame for the 25 March image is provided below.
A high resolution PDF version of the montage can be downloaded here.