Today's CometWatch entry presents a recent image of Comet 67P/Churyumov-Gerasimenko – taken on 21 March 2015 – along with three previously unpublished close-up images taken during last October's 10 km bound orbit.
The full-comet image from 21 March (above) has been lightly processed to enhance the details of the outflowing material. It was taken from a distance of 82.6 km, the image scale is 7 m/pixel, and the 1024 x 1024 pixel image measures 7.2 km across.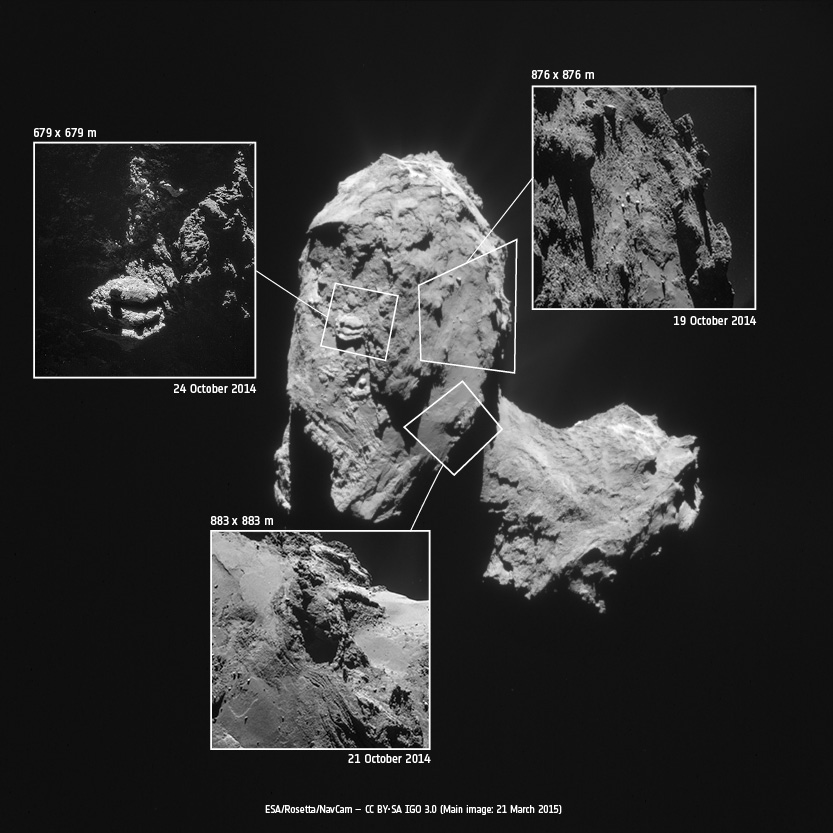 The close-ups highlight the range of contrasting surface features seen on the comet, in particular in the Anubis and Atum regions on the comet's large lobe. The graphic above locates the approximate regions of each inset on the comet – note that due to the change in distance and orientation, the insets are not exactly oriented with how they appear on the main image and the illumination conditions are also different. The close-ups have been processed to bring out the details of the surface and the local nebulosity; the original frames are provided at the end of the post.
The bottom image in the context graphic captures part of the smooth Anubis region on the large lobe (left half of the image), a small portion of the rugged Seth terrain (centre), and the smooth Hapi region that defines the comet neck (right).
Relatively speaking, Anubis and Seth lie in the foreground, while Hapi is in the background: this can be seen clearly in the main image, where parts of the surface clearly visible in the close-up are shadowed by the large lobe.
As described in the recent OSIRIS papers published in Science, the smooth portions of Anubis appear faulted or folded in some places, and scattered boulders may be the products of mass wasting.
The inset at the top right of the context graphic also shows part of Anubis, close to the border of Seth (towards the right in the close-up). Scattered boulders are also visible here, along with more plentiful debris seen typically at the base of cliffs.
This close-up image has been processed to emphasise the faint nebulosity above the horizon on the right, to show the 'peaks' on the horizon silhouetted against this nebulosity, and to see the deeper, darker shadows they're casting onto the nucleus.
Last but certainly not least is the close-up at the left of the context graphic, which highlights part of the highly complex Atum region and its aligned linear features.
This close-up image has been processed to reveal more of the dimly lit portions of the nucleus surrounding the prominent layered structure. A large boulder – approximately 30 m across – appears to be perched at the edge of the curious three-slabbed 'outcrop', casting its shadow onto the layer below.
All four original 1024 x 1024 pixel images are provided below.