This single frame NAVCAM image was taken on 18 March at a distance of 81.4 km from the centre of Comet 67P/Churyumov-Gerasimenko.
The image scale of the original 1024 x 1024 pixel image is 6.9 m/pixel and the image measures 7.1 km across; a cropped, processed version is shown below.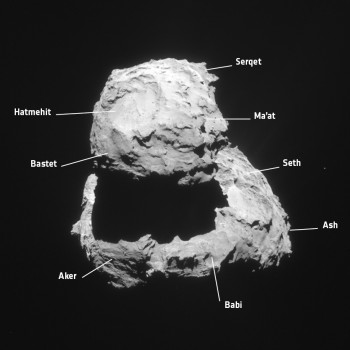 The image is processed to bring out the outflowing material while not overexposing the nucleus too much. Indeed, in this image, a few faint but distinct jets of material can be seen rising above the comet's larger lobe, with a diffuse nebulosity visible around the entire nucleus.
A labelled image is also provided to point out some of the regions on the comet's surface. In this orientation we can see portions of the larger lobe emerging from the shadows – in particular parts of Aker and Babi – that in many previous images have been obscured by shadows cast by the comet's smaller lobe.
The original 1024 x 1024 pixel image is provided below: