A number of very helpful folk have sent in comments and notes to remind us to remind you that tonight could be a great night to look up… to the ISS & ATV-5.
Before we get to tonight's details, this is also a great opportunity to share some of Ralf Vandebergh's excellent space photos from the past few days. Ralf writes:
Attached are the ATV-5 images from 1 August with now a better view of the solar panels. I have exposed the ATV body slightly over this time in order to get a better view of the solar panels. I also attach a set of ISS images taken in the same orbit a few minutes later!
Plus, a processed and enhanced series of shots of ATV-5 seen on 5 August.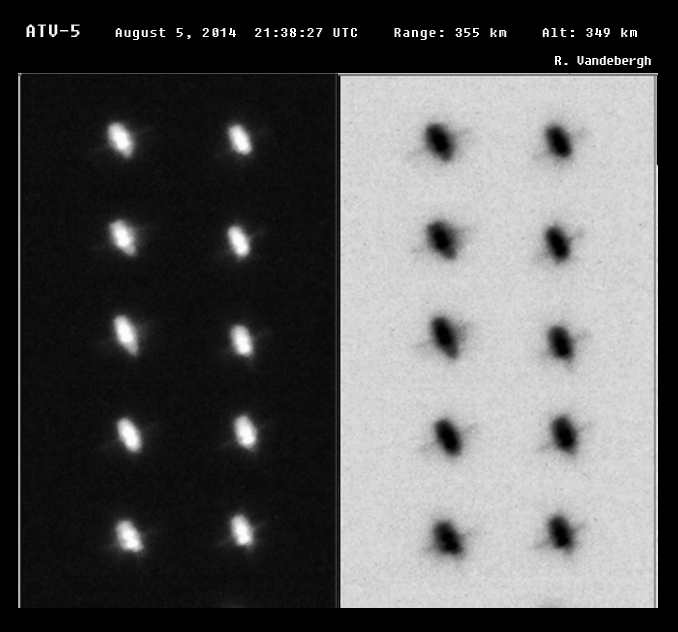 Thanks, Ralf, for sharing your excellent work!
Spot the ISS & ATV tonight
Given clear skies, anyone in W. Europe and in the eastern half of N. America should have very good opportunities to see the ISS followed by ATV-5 just a few moments later. If you're able to see the ISS at around 24:00 CEST, you have a good chance of seeing ATV-5 during its closest approach to the ISS as part of today's LIDAR testing/demonstration flyunder.
For example, at 23;10 CEST, ATV will be 10 secs behind the ISS, and at 00:40 CEST it will be just a few kms beneath.
Here is a listing of times/locations provided by ESA's Olivier Mongrard:
I found a good sight opportunities for ATV from your location at 21:07 GMT with culmination at 21:12GMT (75 deg elevation) and then a less good one at 22:42GMT, but ATV will enter eclipse at 22:45 at 16deg elevation, so it coincides with the 'fly-under' events. Best should be Berlin at 23:25 (local time). Get your camera ready!
Note: These all come from Heavens-Above – you can look up opportunities based on your exact location.
Time to look up (if weather allow) are:
Toulouse 08 Aug -2.2
21:45:59 10° WSW
21:49:13 49° NNW
21:52:29 10° NE
visible
London 08 Aug -3.3
22:23:07 10° W
22:26:28 88° S
22:29:19 14° E
visible
Paris 08 Aug -3.3
21:46:41 10° WSW
21:49:59 68° SSE
21:53:19 10° ENE
visible
Noordwijk 08 Aug -3.4
23:23:53 10° W
23:27:14 81° S
23:29:19 21° E
visible
Berlin 08 Aug -3.2
21:48:49 10° WSW
21:52:05 56° SSE
21:55:23 10° E
visible
08 Aug -3.4
23:25:22 10° W
23:28:42 77° S
23:29:19 55° ESE
visible
PLUS…
ATV Flight Dynamics expert Laurent Arzel, at ATV-CC, sent in the TLEs for finding both the ISS and ATV-5 tonight. Laurent wrote:
Daniel: Two ATV TLE for those who can process them, for visibility computation until next manoeuvres on August 10 ~03:00GMT :
# 2014/08/08 15:10:40.279 – Post TV manoeuvre
1 40103U 14044A   14220.63241063  .00000000  00000-0  12262-3 0  0004
2 40103 051.6441 199.6325 0004039 350.4456 073.0049 15.53092885 00008
# 2014/08/08 21:07:04.000 – Start of Fly-Under
1 40103U 14044A   14220.87990741  .00000000  00000-0  12262-3 0  0004
2 40103 051.6433 198.3998 0004113 350.3956 017.7446 15.53066688 00006
Start of FU at ~21:07 GMT
Closest approach to ISS ~22:49 GMT (1 orbit +10 min later)
ATV will drift ~7 km below ISS which is at 415km
at 22:49 GMT ATV will be just below ISS (both object on the same orbit radius)
at 22:45 GMT ATV will be 0.37 seconds behind the ISS
at 22:42 GMT ATV will be 0.65 seconds behind the ISS
It's the time to catch both ATV and ISS.. .!
— Laurent