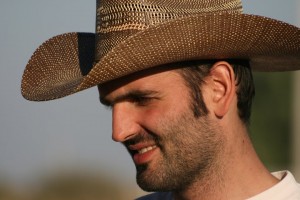 Francesco Sauro – known as Cesco – is the CAVES instructor for exploration techniques. He is an explorer and a member of the  La Venta exploration team. Cesco is currently completing his PhD at the University of Bologna with Jo De Waele, the CAVES science coordinator. But I didn't come across him through Jo: I actually found him by myself and decided he should be part of the team.
In 2010 I read the book Blind Descent and was deeply disappointed. It wasn't written by a speleologist, and it didn't represent what I feel when I'm exploring underground. Then I found Cesco's book L'Abisso [The Abyss] and I couldn't put it down. His book took me down in the depths with him and with the explorers of the past: it fascinated me. It captured the quintessence of exploration, of teamwork, of endurance. So when I met Jo in Bologna shortly before CAVES 2011, I was surprised to meet Cesco, his PhD student, at lunch. I immediately made him an offer, but he needed to become an ISS certified instructor before he could teach technical skills to the astronauts.
Just 29 years old, Cesco is already an experienced explorer and expedition leader. He is a certified CAI national instructor of speleology. He transformed the safety of CAVES, and added an extra star to the quality of the course. Cesco never stops coming up with new material and technology to test. Of course he also uses CAVES as a platform to test new equipment and to advance the discipline of speleology. He's a jewel: quiet, competent, slightly mad, and a lot of fun too.
Loredana Bessone