ESA astronaut Alexander Gerst is gearing up to step outside the International Space Station, not once, but twice in September. And the second time he does so, he will be the lead space walker.
Alexander's first spacewalk of the Horizons mission is scheduled for Thursday 20 September and expected to last around 6.5 hours. During this time, he will work closely with NASA crew mate Drew Feustel, from whom he will take over command of the International Space Station on 3 October.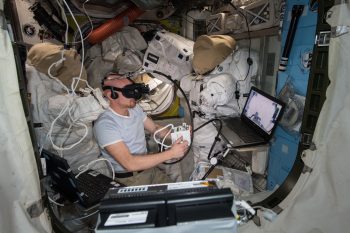 His second spacewalk – also expected to last around 6.5 hours – will take place less than one week later on 26 September. It is during this spacewalk, with NASA astronaut Ricky Arnold that he will fulfil the lead role, known as EV1.
The main purpose of these spacewalks is to replace batteries on the Space Station's Port 4 truss structure power channels. The replacement batteries will make their way to the Space Station aboard the Japan Aerospace Exploration Agency's (JAXA) Kounotori HTV resupply vehicle.
This crew-less cargo vehicle is scheduled for launch from the Tanegashima Space Center in Kagoshima Prefecture on 11 September, carrying around 6200 kg of food, clothing and other essential items to help support life up in space.
Each of the spacewalks will be tightly scheduled and supported by astronauts inside the Space Station as well as crew down on the ground.
Both will be available to view via NASA TV, with further details and more information about additional spacewalk tasks provided closer to the time.
Find out more about what it takes to plan and support a spacewalk in this piece from ESA astronaut Andreas Mogensen and stay tuned to the blog for all the latest updates from the Horizons mission.