After arriving on board the International Space Station in the early hours of Sunday morning, Luca is now settling into his new home and workplace for the next six months. Here's a snapshot of planned activities for his first two full working weeks in space.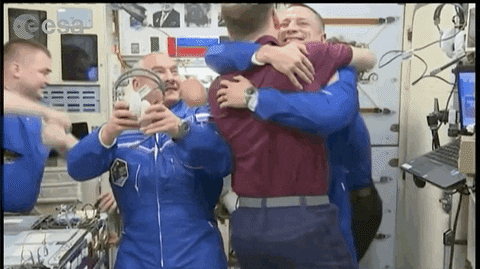 Day 1 – Monday 22 July
Monday was a day of introductions, reorientation and adaptation. New crewmembers were brought up to speed with the Station's tools and facilities.
Day 2 – Tuesday 23 July
Housekeeping aside, it didn't take long for Luca to get started on one of the European experiments he will be supporting during his Beyond mission.
The NutrISS experiment, developed by Kaiser Italia for the Italian space agency ASI and ESA, is a proof of concept study. NutrISS monitors changes in energy balance, metabolism and body composition that may occur during spaceflight to help in the diagnosis of musculoskeletal changes in microgravity.
The results will make medical teams better equipped to give feedback on nutritional intake and provide recommendations to help astronauts maintain a healthy body while in orbit.
Yesterday he set up the experiment ready to take his first measurements in space.
Towards the end of the day, the entire crew of six gathered for about an hour to review their roles and responsibilities in the event of an emergency. The four astronauts and two cosmonauts went through procedures, safety gear and escape paths for unlikely emergency scenarios such as a fire or a pressure leak aboard the Station.
Day 3 – Wednesday 24 July
Today Luca will take the first of seven in-orbit measurements for NutrISS.
Throughout his mission, he'll measure his body mass using a spring-mounted device in the Station's Russian segment and a bio-impedance analyser to measure the amount of fat, water and lean tissue in his body. This second test is referred to as Bio-Impedance Analysis (BIA).
Bio-impedance is a measure of how much the body obstructs or slows the flow of a low intensity electric current, passing through the body, delivered and collected via two pairs of electrodes applied Luca's right hand and foot.
Day 4 – Thursday 25 July
Crew orientation and adaption is ongoing, and a big part of this are daily countermeasure workouts.
Astronauts exercise for around 150 minutes every day (including setting up and tearing down the devices if necessary and hygiene) while in space to combat the muscle and bone weakening effects of microgravity. But in the first two to three weeks it will be particularly important for Luca to listen to his body and not push himself too hard as he familiarises himself again with the Station's gym.
The CEVIS stationary bike, the T2 treadmill and the ARED weightlifting device all help astronauts keep fit and healthy. They're similar in many ways to the equipment you might find in a gym here on Earth, but there are a few modifications.
The Station's exercise machines are equipped with vibration isolation systems to ensure an astronaut's movements don't affect the Space Station or disrupt any of the ongoing experiments.
Each astronaut has a personalised harness to use on the treadmill that pulls them towards its surface, allowing them to run. And there's no seat on the bike! It's not needed when you're cycling in weightlessness.
Day 5 – Friday 26 July
Today the crew were expecting a Dragon – a SpaceX Dragon that is. But due to unfavourable weather on Wednesday 24 July, it is now expected to arrive on Saturday.
Onboard training on emergency hardware is expected to take place today, as Luca and Russian cosmonaut Alexander Skvortsov work to get the orbital laboratory up to full speed.
Day 6 – Saturday 27 July
There is no escaping weekly chores – not even on the Space Station.
Every Saturday morning, crew members work to keep the orbital laboratory spick and span. See how they clean the Space Station in this clip from ESA astronaut Tim Peake's Proxima mission.
This Saturday NASA astronaut Drew Morgan is also expected to be on Dragon monitoring duty. NASA astronauts Nick Hague and Christina Koch will capture and berth the commercial resupply vehicle to the Station's Harmony module when it arrives.
The Dragon cargo craft carries a number of science experiments that will soon get underway in Europe's Columbus laboratory. These include Biorock – an experiment that will unleash a microbe on a basalt rock and assess the biofilm that forms over the rock as the organism grows – and Amyloid Aggregation, that will further our understanding of the toll space takes on the human body.
Day 7 – Sunday 28 July
Today is a well-deserved day off for the Expedition 60 crew. They might enjoy a movie together, have a video conference with their family members or even take a look at some of the activity taking place on social media.
Though he can't go for a Sunday stroll or down to the local café for coffee and cake, ESA's crew support team will ensure life is as comfortable as possible for Luca while he's onboard.
Crew support are the people who facilitate the daily lives of the astronauts at all stages of their mission. This helps astronauts focus on performing to the best of their abilities.
Arranging weekly video calls between an astronaut and their family, coordinating with NASA for crew care packages to be sent up on cargo vehicles and uploading movies, music and media to the crew are all part of their activities.
Hear more about the role of crew support in episode 2 of podcast ESA Explores where we talk to ESA head of crew support Romain Charles about launch day and launch traditions.
Week 2
For five consecutive days during this week, Luca will complete an ESA Nutritional Assessment (ENA) using the Everywear app. This is like "My Fitness Pal" for astronauts. It allows Luca to track his intake by scanning the barcodes of the food he eats and send it back to his nutritional team on Earth alongside his body composition and BIA readings for the NutrISS experiment.
Once Luca's nutritional team have these readings, they will advise on whether he might need to eat more protein or less sodium.
Luca will also continue his countermeasure workouts to keep fit, stay strong and combat the impact of microgravity on muscle and bone health in space.
We'll be providing a regular summary of science on Station throughout Luca's mission. Keep an eye on this blog and the Human and Robotic section of the ESA website for more information.