1
2
3
4
5
6
7
8
9
10
11
12
13
14
15
16
17
18
19
20
21
22
23
24
25
26
27
28
29
30
Share your memories
The ESOC50 blog is all about YOU! It's about your stories, your memories and your experiences from five decades of ESA's control centre in Darmstadt. What do you remember when you recall your time at ESOC? What was funny, emotional, unique or simply worth sharing? What were the successes or the not-quite successes and who were the people who helped Europe venture into space?
Guidelines
Our 50th anniversary is an opportunity for everyone to look back at the past as we embark upon the future, and this blog is your platform for sharing memories. We encourage you to share stories, anecdotes, images or videos, and we hope the ESOC50 blog will become a unique repository of information for our colleagues across the Agency. To make this happen, we've established a few simple guidelines.
Submit
Have you rummaged through your basement? Have you gathered up old (or even new) images or videos? Do you have a story or anecdote you're ready to share? Have you read our simple guidelines on what to submit? Then click below to begin your post!
Latest posts
It was in March 1986 when I had the chance to witness the encounter of ESA's "Giotto" probe with Halley's comet during a mission to the Parkes Observatory, located in New South Wales, Australia, also informally known as "The Dish"….Read more
During MSG3 Sims Campaign someone did a joke about a possible virus in the MCS…bad move! Sim Officers use everything they can to harm the Ops! So it was a FCT-A Sim and SoftCoord-A Gianpiero would be on shift. I…Read more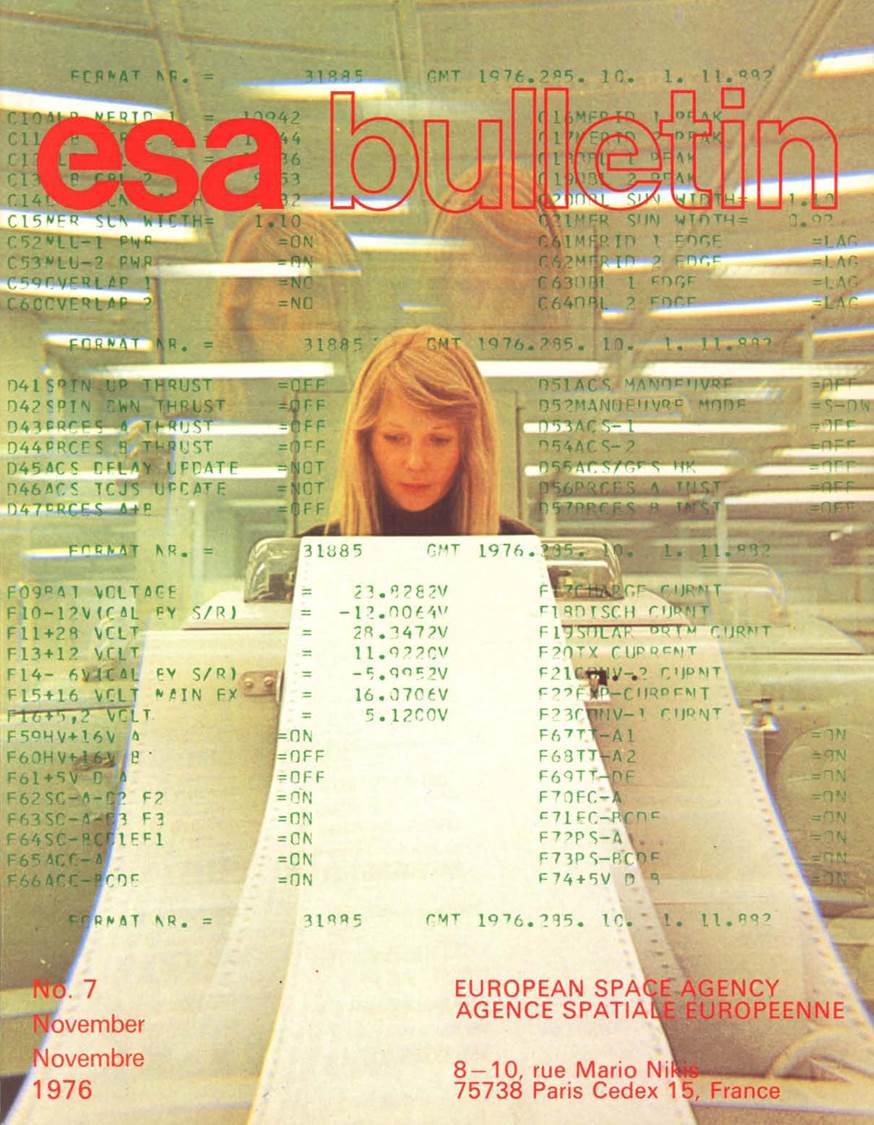 An ESA Bulletin from 1976 – one of the first ones – was dedicated entirely to ESOC: https://esamultimedia.esa.int/multimedia/publications/ESA-Bulletin-007/
Eumetsat's Project Rep. intensive photo shooting.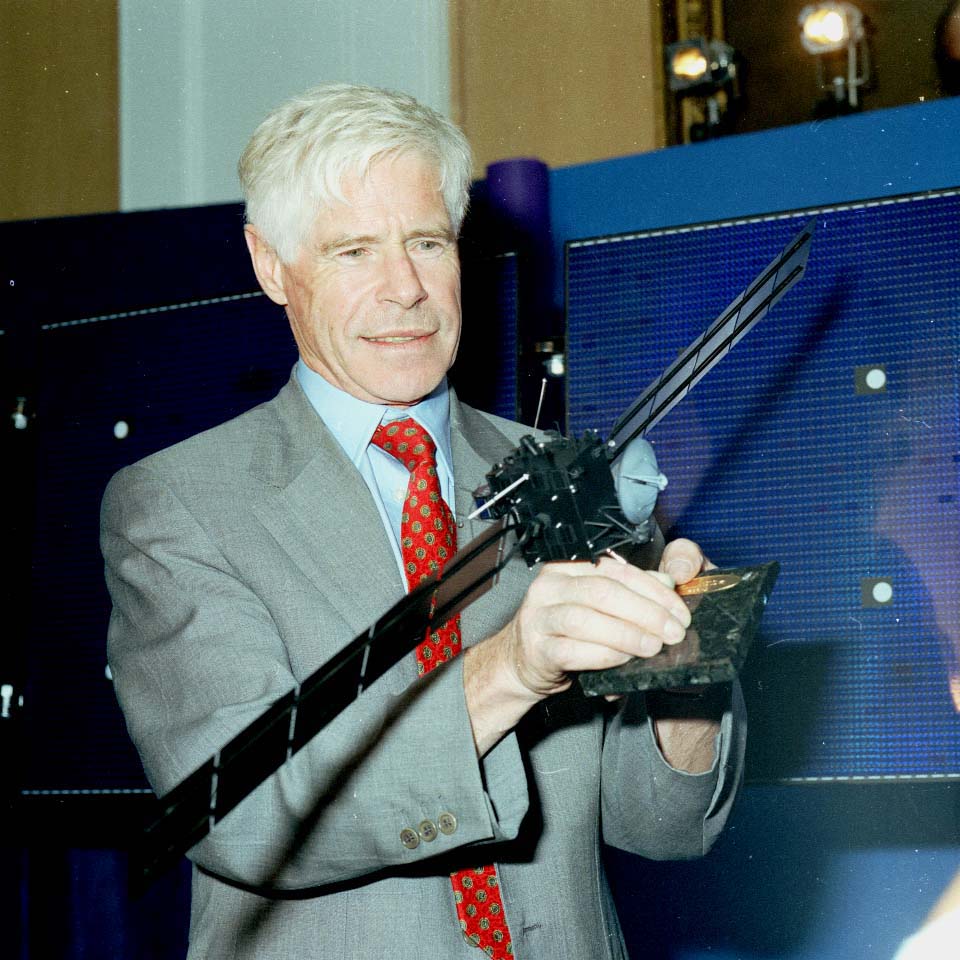 Editor's note: Dr Roger Bonnet was ESA's Director of Scientific Programmes from 1983-2001. When I think of ESOC, I remember without doubt seeing the first image coming from Meteosat, the first European meteorological satellite, whose story I witnessed as a…Read more
1970s, 1980s, 1990s, 2000s, People
Editor's note: Thomas Reiter is an ESA astronaut and former Director of Human Spaceflight and Operations. Today, he serves as ESA's Interagency Coordinator and Advisor to the Director General. During these 50 years the colleagues at ESOC have operated more…Read more
Christoph, I think it's time we finally confess it (he agrees). This episode took place on the 7th of November of 2005, just two days before we launched Venus Express. Christoph and me are staring intently into a laptop during…Read more
A wonderful set of four 'newspapers' produced by long-time SIMs Officer Gustavo Baldo Carvalho, with enthusiastic support by many SOEs, Spacons and SOMs. Links for direct download at bottom.
At the end of MSG3 Simulation Campaign and LEOP FCT, it was sad to see a very good time ending…that's when I thought, as a good Beatles Fan, to do an adaptation of their memorable song "Yesterday" which I called…Read more
Until 1987 NASA sent us weekly patches of the Two-Line-Elements (updated orbit information coming in two lines per object) on paper. A bit too slow for near real-time conjunction analysis like the space debris office is now providing on a…Read more
One might expect the director in charge of building space science missions to say that the launch site of a mission would be where the greatest memories were created. No, it is not true. Although the launch marks a culmination,…Read more
One of those long, quiet slews that Exosat used to carry out to point its telescopes and detectors from one target to the next one in the sky was on for that evening of May 18th, 1985. Long slews were…Read more
We cleaned up a bit in our PR basement and found an old folder with the lable "Giotto encounter". Do you remember it? Do you have any old images from that day? For those of you who prefer video: Here's…Read more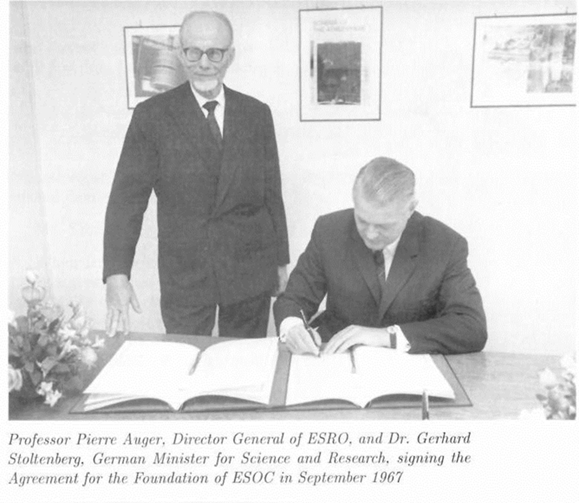 This is one of the oldest images in the history of ESOC: With this signature, ESOC was born! 50 years ago. Does anyone of you still have images from the 1960ties?