Welcome to the VMC RAW data archive
The files are arranged in folders (Year/Month) as zip archives, oldest to newest, with one archive for each individual observation. Scroll below and click through to the archive you wish to access.
To see the latest processed versions visit our Flickr page.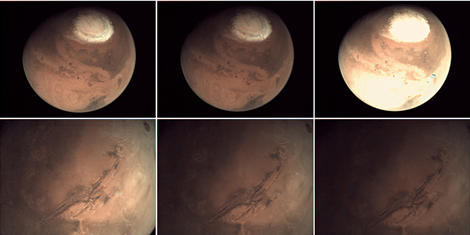 How to open/convert RAW data files?
There are several tools that can do this:
VMC2RGB: This was created by Gordan Ugarković and is available in a zip file at the bottom of the raw image archive and also from the Unmannedspaceflight forums. This tool will convert the raw files to .png files, which can be opened by most graphic applications and will also apply a bayer colour filter. The tool runs under Microsoft Windows only and runs from the Windows command line with the command: VMC2RGB.exe (you'll be prompted to enter the file name of the RAW file you wish to convert).
Raw Therapee: Raw file processing tool available from Rawtherapee.com
Gimp: Popular open-source graphics package; download via Gimp.org. You'll also need the UFraw plugin.
Notes:
Due to data extraction issues, images taken prior to August 2008 can only be converted/opened using VMC2RGB. For images taken after this time, it should be possible to open them with any of the tools listed above. We are looking into correcting this.
It's possible that tools other than the ones mentioned above can open RAW files.
Some older archives also have CELX files included; these can be loaded into the Celestia astronomical visualisation programme to show the location of Mars Express on the date/time the observations were made.