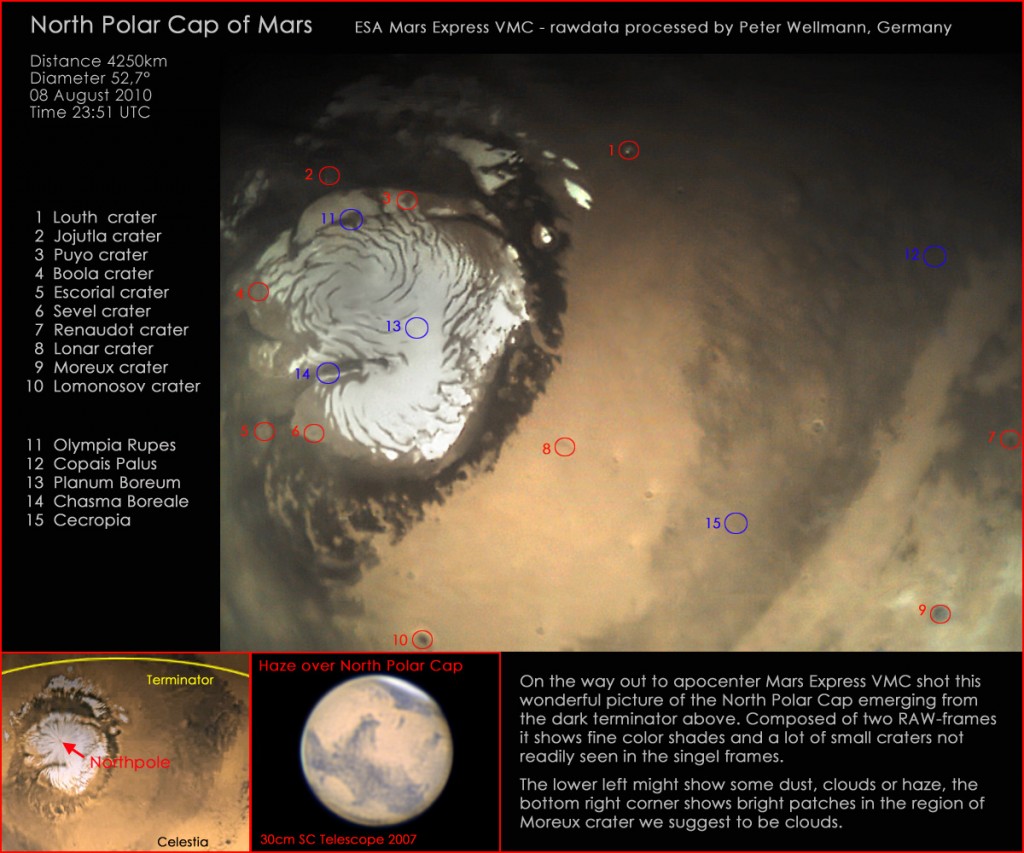 Peter Wellmann, from Germany, has sent in two excellent Mars poster compositions using the fabulous 8 August polar cap image set.
His first poster comprises a cleverly processed main image (based on two of the raw VMC images) and several smaller images to provide location and orientation information. Peter has also included a detailed identification and description of craters, possible dust clouds and the day-night terminator. The second poster shows the original processed image in a larger size.
Peter wrote:
 "On the way out to apocenter, Mars Express VMC shot this wonderful picture of the South Polar Cap emerging from the dark terminator above. Composed of two RAW-frames it shows fine colour shades and a lot of small craters not readily seen in the single frames. The lower left might show some dust, clouds or haze, the bottom right corner shows bright patches in the region of Moreux crater we suggest to be clouds."
Access Peter's full report and full-size versions of his images under 'Full story below'. Thanks, Peter, for an excellent submission! -- Daniel
Here is Peter's second poster (click either image in this post to access the original, largest, size):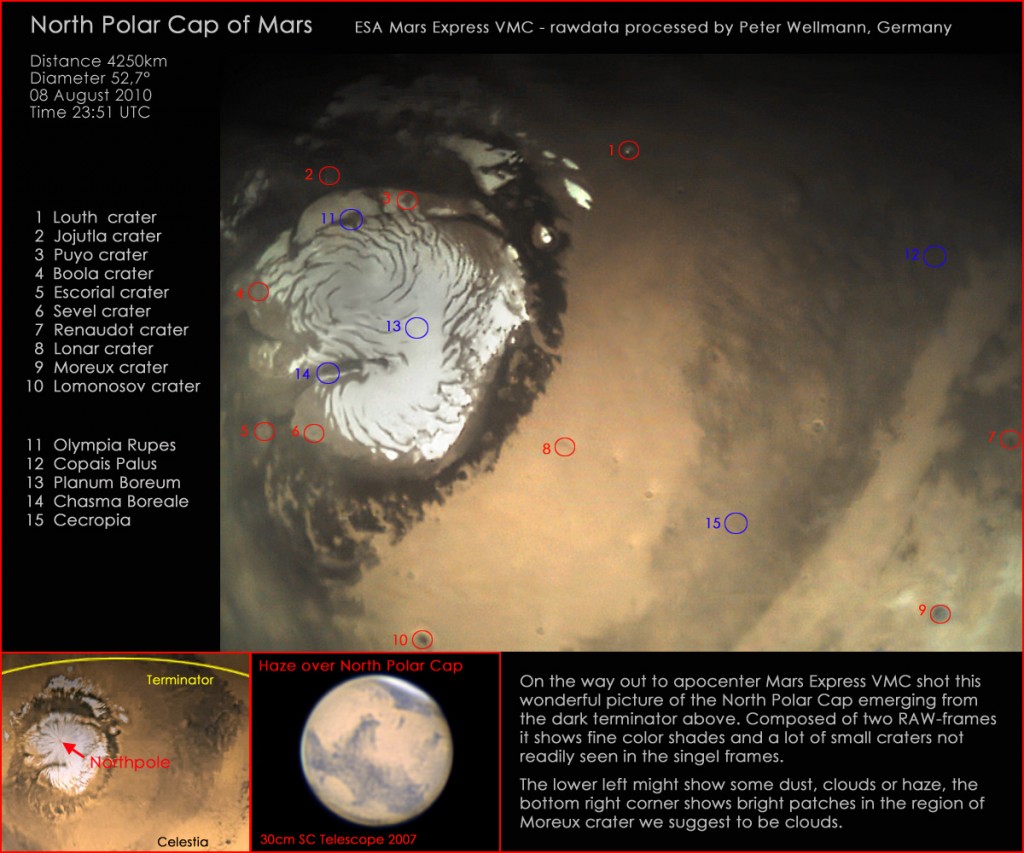 Peter writes:
Seeing the raw-material from 2010/08/08, I just had to give it a try. I decided to use two raw frames to reduce noise, and to utilize the whole area of both pictures instead of selections only for better noise reduction. After resizing to 150 percent and sharpening with a Mexican Hat filter, the two frames where ready for combining them:

•     10_220_23.51.39_VMC_Img_No_3_rgb
•     10_220_23.52.21_VMC_Img_No_4_rgb

The problem is, that due to rapid movement of Mars Express, the two frames would not fit together. So Photoshop layer distortion was used to adapt one of the pictures exactly to the other, not an easy task. I accomplished sufficiently by 'blinking' from one frame to the other, until blinking would not move the structures seen in the images. Then the upper layer was set to 50 percent transmission and then the two layers were reduced to one. Additional reduction of high frequency noise was done with the software Neat Image, to manage this without destroying to much sharpness is quit a demanding task.

Finally Photoshop was used to give the picture the 'final touch' by carefully removing the known artifacts of VMC, adjusting levels and colour saturation and cutting the edges of the picture. When adjusting levels and colour a mask for white with a tolerance of 100 and feathered edges of 30 pixels was used to protect the snowy areas of the Polar Cap in order to preserve the white colour.
Peter also wrote: "I am very grateful to ESA for supplying material for public processing, I had a lot of fun procession this material."
Thanks for a great job! -- DGS
Editor's note: Peter is also lending his image-processing expertise to students at a high school near Munich, who are working on a school VMC project. We look forward to publishing their work shortly.