Editor's note: We're delighted to post this update on the international, behind-the-scenes cooperation to implement the MSL 'ground listening' campaign. It highlights the hard work, months of preparation and terrific cooperation between ESA, NASA and international partners on a technical, operational and interpersonal level. Thanks to NASA's Susan Kurtik and ESA's Wolfgang Hell for kindly providing information for this report.

On 6 August, ground stations and a radio telescope operated by multiple nations will be listening to signals from NASA's MSL mission as it descends through the Martian atmosphere to deliver the Curiosity rover safely onto the Red Planet's surface.
The stations involved are all in the Land Down Under, since that's the bit of Earth that will be facing Mars at around 01:00 CEST next Monday morning, as MSL approaches its nail-biting plunge into the Mars atmosphere to touch down in Gale Crater.
During this crucial phase of the mission, MSL will transmit two radio links – one direct to Earth in X-band, which is also being used  for routine telecommanding during the cruise to Mars, and a 'proximity link' in the UHF band for direct communication with spacecraft orbiting Mars.
To get a good idea of the importance of the ground campaign, let's first look at the in-flight tracking efforts for the proximity link.
International fleet tracks MSL from Mars orbit
"The primary monitoring of MSL's Entry, Descent and Landing – EDL – phase will be provided by two NASA spacecraft in orbit around Mars: Mars Reconnaissance Orbiter [MRO] and Mars Odyssey. These two 'platforms' will be backed up by ESA's Mars Express [MEX]," says Michel Denis, MEX Spacecraft Operations Manager and responsible for MEX tracking support to MSL at ESOC.
(See our earlier post, 'Mars Express to track 7 minutes of terror' for details – Ed.)
Odyssey is the only one of the three that can provide the so-called 'bent-pipe' (or real-time) relaying of signals and is expected to give the first indication to NASA that Curiosity has arrived; confirmation of safe landing is expected by NASA at around 07:31 CEST.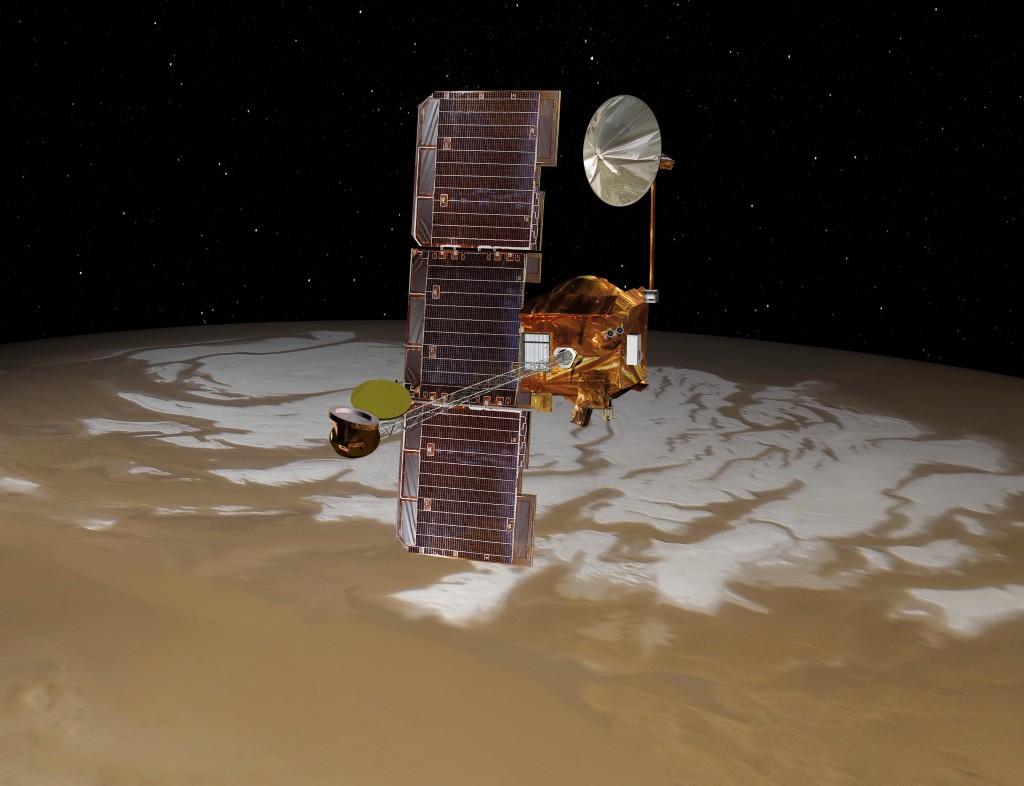 Odyssey over Mars' South Pole: NASA's Mars Odyssey spacecraft passes above Mars' south pole in this artist's concept illustration. The spacecraft has been orbiting Mars since October 24, 2001. Credit: NASA
In contrast, MRO and MEX can only track, store and then forward recorded signals later.
"Only Odyssey can receive, decode and then relay to Earth the actual telemetry data coded into the those signals. Conversely, MRO and MEX will save on board 'open-loop' recordings," says Denis.
This means they will record only the spectra of the radio signals and the related Doppler variations in signal intensity, and not the encoded telemetry.
(NASA's Susan Kurtik, MSL Mission Interface Manager at JPL, adds: In fact, we will be able to extract telemetry from the MRO open-loop recording, although it will take ~8 hours to process – Ed.)
(The variations in signal strength due to the Doppler effect are explained by the rather famous ambulance siren analogy.)
Ground tracking campaign provides crucial support
Now, let's look at the ground tracking campaign, the crucial, 'behind-the-scenes' activity in support of Curiosity's arrival at Mars provided by stations on Earth.