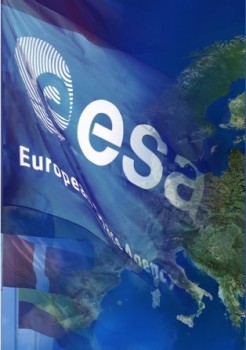 My first four weeks at ESA were filled with a great many differing impressions. For me, the most important aspects were the meetings with staff and contractors at the various ESA sites: after presenting my general ideas about the challenges and opportunities ahead of us, I was able to learn about their issues, concerns and wishes. Although this first round of interaction was very much focused on general themes, there was one question that kept being raised at all the sites, and that was relations between ESA and the European Commission.
Unsurprisingly, the subject was also discussed in my first meetings with representatives of the Member States.
Generally speaking, the current political trend is – unfortunately – not towards the formation of a "United States of Europe". Instead, there is a tendency to prioritise national activities and a certain euroscepticism is in evidence. Fortunately enough, this tendency has had little impact on ESA, as the way in which the Agency operates is very supportive of diverse interests and industrial policies. It follows, therefore, that we should make our next goal a "United Space in Europe".
To achieve this, pragmatic, transparent and reliable cooperation among the main space actors in Europe is of the utmost importance. Within ESA, the relation between ESA activities and the activities of the Member States constitutes a solid foundation that has been laid down by the ESA Convention, paving the way for interaction and effective cooperation. In addition to that, the relations that exist between ESA and EUMETSAT, the European Organisation for the Exploitation of Meteorological Satellites, and other organisations are extremely beneficial and are fully on track.
At the same time, there is a clear need to develop similarly effective relations with the European Union, and more specifically with the European Commission. Instead of arguing over commas in legal documents, we should seize the opportunity to create coherent cooperative mechanisms that take full account of our respective experience, mandates and capabilities. Any attempt to communicate in a negative manner or claim overall governance would result in deadlock and may in the end prove detrimental to European citizens and to space activities in particular. Citizens and politicians alike expect from us that we approach our interactions at institutional level with great seriousness, as well as carrying out advanced, inspiring and educative European space activities rather than engaging in quarrels over details about who has the power in whichever area. There is much important work to be done in the period ahead, hopefully culminating in a joint Space Council at the end of this year.