We spoke with ESA's Spacecraft Operations Manager Juan Piñeiro earlier this morning: Yesterday's full 'dress rehearsal' went fine!
The penultimate day-long event involved everyone working on the Swarm launch, including the mission control teams at ESOC, the launch campaign teams at Plesetsk, Eurockot, the ground tracking stations at Kiruna and Svalbard and representatives from the satellites' manufacturer.
The rehearsal followed the complete launch sequence from about 10 hours before lift off, set for 13:02 CET, to the first acquisition of signals.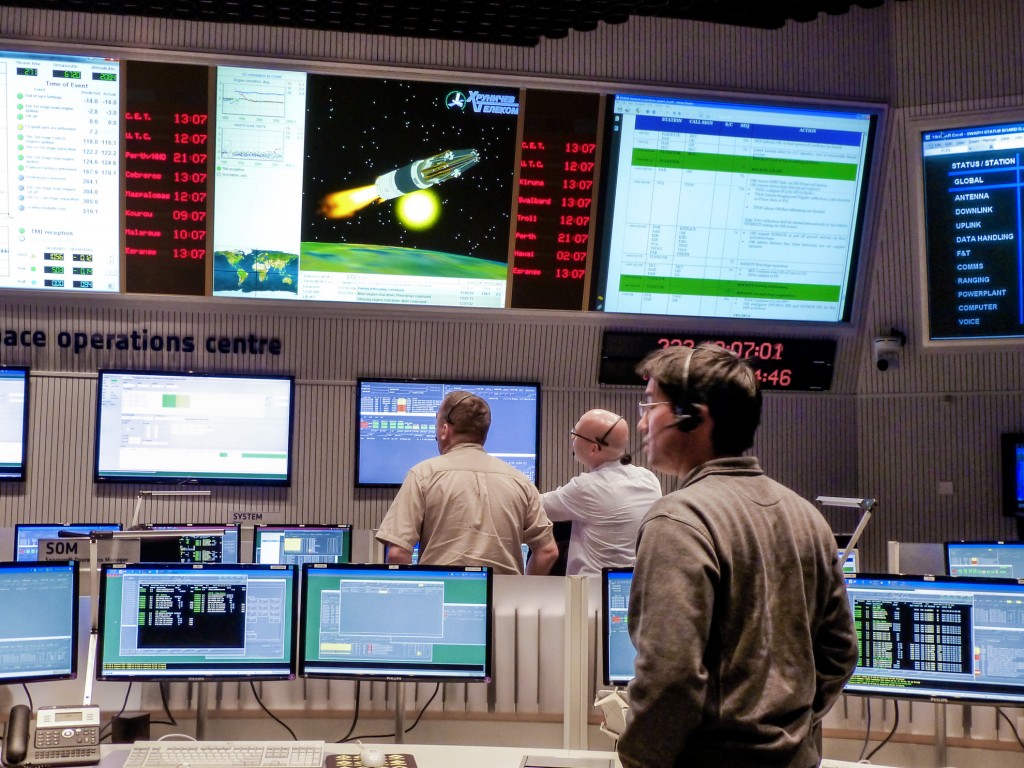 Swarm mission teams conducted the 'dress rehearsal' for launch on 19 November 2013 in the Main Control Room at ESOC and in the launch control centre at Plesetsk. Credit: ESA/F. Diekman
At ESOC, the first mission control team folks (the engineers from Software Support, in this case) were on console in the Main Control Room at 03:00CET; teams at Plesetsk were also up early, but it was a little later in the day for them (time zone difference Plesetsk to Darmstadt is 3 hours).
The ESOC and Plestesk teams were in live voice loop connection; ESOC was also talking to the engineers at the tracking stations at Kiruna and Svalbard.
The three Swarm satellites were switched ON at L-~7hrs, same as will happen during the real launch
The teams received live telemetry from the Swarm sats
The simulation proceeded as a real count down right up until a few moments before launch, when a (real!) ABORT command was issued
Thereafter, the Swarm simulator was switched on, and the ESOC teams continued the simulation up until the first ground station pass, expected about 90 mins after launch.
Next up? There will be a final briefing at ESOC on 21 November. Then we wait for go!